A 16-year-old boy was knifed to death and thrown into a canal allegedly by his sister's reputed husband late Friday evening in Cane Grove, East Coast Demerara, a day after his attacker was released from prison.
Mulchand Munilall, of Patwah Scheme, Cane Grove was stabbed in his chest and thrown into a canal hours after his alleged assailant attacked his sister on her way home from work. According to reports from Munilall's family, his attacker became enraged after he was spurned by his sister who ended their relationship in July.
The police have since indicated that the suspect was captured yesterday in Springlands, Berbice and is currently incustody. Munilall was also stabbed under his left arm, the police said in a press release.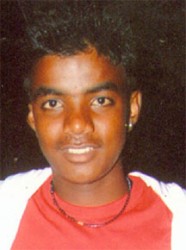 Munilall was sitting on a piece of wood at the edge of the canal when his alleged attacker, Hamid Latiff, grabbed him and knifed him, finally tossing him in the canal, his sister Vashti Munilall said.
She recalled that she and her brother and an uncle were standing in front of a "wedding house" when Mulchand told her that he was tired and wanted to sit down. She said she told him to go and he left. "He left and sit there by the water. I was seeing my brother all the time because of the street light and lights from the wedding house," she said. "I hear my brother voice and I turn around and I see my husband scramble him… he start to shove him and fight him and then he throw him over the trench. Uncle Rajesh was standing next to me and I start to holler and run fa help he."
Vashti said that when her husband heard her scream he rushed at her with the knife. "He wouldn't stop… He just keep running for me and scrambling me but Uncle Rajesh grabbed me and pull me behind him and pitch a headlight in his face… and there was so much blood on his face and his hands and he had the knife in his hands," she said, adding that Latiff fled the scene when the light shone on his face.
She then was able to go to her brother's assistance. "I kept calling his name, but he wouldn't answer me. He just groan and draw two more breaths and I ain't hear nothing more. By that time people start to come out from the wedding house and gather," she stated.
"I never knew he had that intention in his mind. All the time he just talking," she added, speaking about her separation with Latiff. She said that Latiff's abusive behaviour had driven her to police station countless times. "I went to the police and they lock him up. But when he face the magistrate I tell him [the magistrate] not to lock him up. I felt pressured because his family-his mother and father-would come and beg me to get him released. What could I do? I couldn't take care of my children alone… so I beg for him… I never know."
She said the magistrate had remanded him to prison for 14 days and he was released last Thursday.
"But is Friday midday he come and threaten me," she recalled. She said he went to her workplace and threatened to kill her and their three children. "He tell me that it way overdue; that I would make Kaieteur News. He said, 'you come on the road and I will kill you.'"
She added that later that afternoon Latiff grabbed her as she was walking home from work. "The same knife he kill my brother with de fall out his pocket when he scramble me but I knock it away and run. I run straight home and me and my brother and Uncle Rajesh went to the station."
"He natural get mind to kill my son," Krishna Munilall said. "My belly burning right now to know that I raise eight children… I mine my son and then this man come and kill him. I want to see him lock up and throw away the keys," he said.
Meanwhile, Munilall's mother was inconsolable. She recalled hearing screaming that night on dam. "So I rush out… and my neighbour tell me 'like the big man beat your daughter again'. But when I reach I see my son on his belly. I holler till I couldn't holler no more. My son is sit down easy and he wouldn't talk too much. Some lil boys would mouth up but not my son. That man should have known better, he should have known better.
"He try to kill my daughter and then he come back for my son with the same knife. What would I do if both of them de dead? I band my belly and mine them and he wanna kill them? This ain't easy. Which corner of the world I gon go and find my son back?"
Villagers told Stabroek News that Latiff was an alcoholic; his call name was "Barfly".
Around the Web