Secretary General of Caricom, Irwin LaRocque, on Wednesday, lobbied for Belgium's support to urge the European Union (EU) to revisit its differentiation policy which denies Caricom's highly-indebted middle income countries reduced access to concessionary funding.
LaRocque was speaking at a ceremony at the Caricom Secretariat headquarters, where the first Plenipotentiary Represen-tative of Belgium to Caricom, Godelieve Van den Bergh presented her credentials. While expressing appreciation for the assistance that Caricom member states have been receiving from the EU, he pointed out the vulnerability of the Caricom states which have to contend with the policy of differentiation or graduation while facing severe fiscal challenges from the effects of the global financial and economic crises, and increasingly disruptive natural events.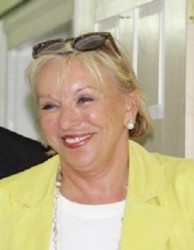 A release from the Caricom Secretariat said that the Secretary General also indicated a number of areas in which Belgium and Caricom could build a partnership.
Among the areas for partnership was human resource development which he said was an area on which Caricom placed great emphasis.
Another area of cooperation suggested by the Secretary General was health. He highlighted that Caricom States have placed themselves at the forefront of the challenge to focus global attention on the negative impact of non-communicable diseases (NCDs) on development.
"We look forward to working with Belgium in advancing the plans outlined in the Declaration of the United Nations High Level Meeting in 2011 to reduce the impact of NCDs on the health of our citizens and on our economies," LaRocque said.
Reducing the threat that small arms pose to citizen security in member states, by stemming the flow of illegal arms is of great importance to Caricom, LaRocque said while indicating that Caricom would welcome the opportunity for Belgium to join in maintaining the momentum created by the adoption of the United Nations Arms Trade Treaty.
The Secretary General said that tackling climate change was one of the most pressing issues of our time.
He stated that strong global partnerships were required to advance climate change negotiations and Caricom looked forward to Belgium's support in this regard.
LaRocque also raised the subject of the Post 2015 Development Agenda stating that it held much promise for addressing development challenges in a holistic way. He said that Caricom harbours the expectation that the special interests of small middle income countries will be taken into account as it was an opportunity to redefine development and move away from the narrow statistical application of per capita income as its basis. He indicated that Caricom was counting on the sensitivities of its partners to understand its realities and take on board Caricom's positions.
Around the Web