With the upcoming busy Christmas season, solid waste is expected to increase by as much as 60%, and Mayor Hamilton Green is appealing to all citizens to practice better garbage disposal.
At a press conference on Friday, Green said that this significant increase in garbage could have dire effects on the health of citizens. "What makes this situation more untenable and painful is that we are in the second week of November and it is known in our culture that beginning from now, there will be a rapid increase in waste, and things to be disposed of…We have asked people to purchase containers to dispose of their garbage, to sprinkle their garbage with Jeyes fluid or some disinfectant and to also ensure that they tie the garbage containers so that it will not be exposed to vermin, dogs and what we call 'human scavengers'," he said.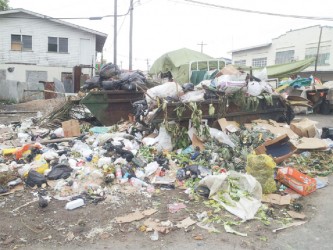 According to Green, while on a recent visit to the Stabroek Market area, he noticed a large pile-up of garbage, and the compactor that was donated to the council several months ago was just there like a 'monument'. "I visited the Stabroek Market yesterday (Thursday) and I saw a pile of garbage as high as the minibus that was parked next to it, right next to this new compactor which we acquired in good faith, but it is not functioning. So you have the folly of dispensing the services of the contractors before you have the capacity to put a replacement," he said.
"I don't know what level of planning is that. You take away something from somebody on Monday and on Tuesday and you don't have a substitute or a replacement.
Right now the council's compactor is there like a monument, impotent not functioning."
Green underscored that at this time, the best thing to do is to mobilize the capacity available in the city to deal with the situation which is not strange to citizens.
He also added that he is working with other councillors to tackle the garbage situation. "I have already initiated with several councillors to see what we can do in some communities to alleviate the garbage situation.
There is an environmental session next week and I will ask councilors to attend so that we can come on board because every person must help to save the situation so that (for) Christmas we will not have a dirty city."
Mayor Green also highlighted that even with several central Government ministries coming to the 'aid' of the acting Town Clerk Carol Sooba and her operations, the aggregate cost would be more that what was expected to be paid to Cevon's and Darthmouth Waste Management Services. "So now you have a case of penny wise, pound foolish and the only reason for that could either be spite or to justify the ineptness of the decision by the Town Clerk," he said.
Last month, Sooba terminated the contracts of Cevon's and Dartmouth Waste Management Contractors and this move has seen the city unable to handle the garbage pile-up.
Around the Web