42-year-old Harrilall Mohan reportedly hung himself on Saturday evening in his Lusignan home leaving his four children and other relatives to mourn.
According to brother-in-law, Harrideo Khushilal, Mohan's decision to end his life might have been prompted by his inability to deal with being separated from his wife.
Mohan lived with Khushilal in a two-storey house at 15 Lusignan Main Road, Lusignan, East Coast Demerara (ECD),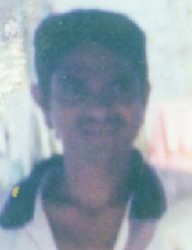 which they shared with several other relatives, including two of Mohan's four children.
Relatives say that the body was discovered in the bottom flat of the house, where he slept alone, by the son of Khushilal around 06:00 hrs yesterday. The boy reportedly went downstairs to tend to the family's flock of sheep, and had decided to check on things in the bottom flat when he discovered Mohan's hanging body.
An alarm was then raised and several other family members, including Khushilal, went downstairs to see what was wrong. Mohan was found in a kneeling position with his neck, still attached to the rope he used to hang himself, jerked back.
According to Khushilal, his brother-in-law used a hammock to hang himself from the low-standing bottom flat ceiling.
Khushilal said that he last saw and spoke to his brother-in-law around 22:00 hrs on Saturday and speculated that Mohan had to have taken his life sometime after that time.
A post-mortem examination will be done today.
Around the Web