Otis Jameson, 38, whose reported dangerous driving caused the death of economist and bookshop owner Bholan Boodhoo and seriously injured Bibi Baksh last Friday, was yesterday remanded to prison.
Jameson, an electrician, of Lot 20 Thomas Street, South Cummingsburg, was denied bail by Chief Magistrate Priya Sewnarine-Beharry during his arraignment at the Georgetown Magistrates' Court.
It was alleged that on November 8 at JB Singh Public Road, he drove minibus PGG 4671 in a manner dangerous to the public causing the death of Bholan Boodhoo. He pleaded not guilty to the charge.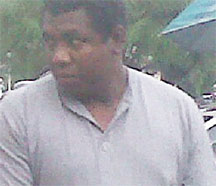 Prosecutor Bharat Mangru said that on the morning of November 6 at 4.50 am, Jameson was behind the wheel of minibus PGG 4671 proceeding north along the western side of the JB Singh Public Road at a fast rate.
He added that the front of the vehicle collided with the two pedestrians, who were walking along the western side of the road.
Boodhoo, was dragged 30ft by the minibus, after being hit, while Baksh, was pitched a short distance away upon impact.
Mangru informed the court that Boodhoo was pronounced dead upon arrival at the Georgetown Public Hospital (GPH), while Baksh was admitted a patient at said hospital. He objected to bail based on the seriousness and prevalence of the offence.
Mangru also said that it was likely that additional charges may surface and if granted bail, Jameson may not return for trial.
Attorney Peter Hugh, who represented Jameson, referred to the accident as an unfortunate incident that sadly resulted in the loss of a life.
He made an application for reasonable bail to be granted to his client.
Bail was refused and Jameson was remanded until November 26, since the prosecution asked the court for two weeks in order for investigations to be completed.
Boodhoo, 65, of Lot 41 Third Street, Alberttown, according to his wife Mahadai Boodhoo, got up at 4 am for his routine morning jog as he had been doing for the past 17 years.
She added that she followed him out to their gate before she realised that he had forgotten his cap, but he said he would go without it.
Over an hour later, she received a telephone call from a man who informed her that her husband had been involved in an accident.
She called a friend who accompanied her to GPH where she learned that her husband had died in the accident. A post-mortem examination conducted on Boodhoo's body revealed that he died of multiple injuries.
Meanwhile, Baksh was yesterday moved from the GPH to a private hospital in the city. Her brother Azeem Baksh, while praising the GPH for the treatment she had received thus far, said the family felt she would receive better care and attention at a private institution.
Around the Web