The Ministry of Local Government and Natural Globe Inc, a Canadian company, yesterday signed a Memorandum of Understanding (MOU) for Guyana's first solid waste recycling plant, even as the country, particularly the capital, lurches from garbage crisis to garbage crisis.
Chief Executive Officer of Natural Globe Inc Mohammed Osman said the initial cost will be approximately US$30 million. "In terms of how soon the project can be started, we are still looking at the acquisition of land to construct our recycling plant. It will run at US$30 million, but that will probably expand because our programme is not just recycling one material, but several… non-degradable materials."
Minister of Local Government Ganga Persaud said the PPP/C has provided an immense amount of support to different agencies in addressing the problem of solid waste, since coming into power.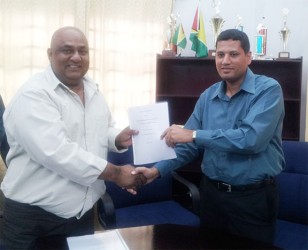 He said that the country's continued prosperity under the PPP/C and an improved standard of living have impacted on waste generation. "More and more it became distinct and clear, that the entities charged with managing our solid waste department were losing the battle… More so with the introduction of plastic bottles and non-biodegradable containers, the challenge would have increased profusely," he stated.
"…And so the PPP Government would have started looking at other ways and means to complement and assist how we can deal with the entire issue of solid waste management…
"If you would recall, in 2012, we set ourselves… the task of forging several public private partnerships in the solid waste management arena. We started that walk and we were successful in many instances and we also stumbled in many instances because of the novelty in what we were trying to do."
Persaud said similar services will be rolled out around Guyana. "My understanding is that a phased approach will be taken initially with regard to recyclable waste," he added.
He said government has made a commitment to identify suitable land and offer a lease arrangement to the company for the construction of the plant. He said both the East Bank and East Coast Demerara were earmarked to set up holding transfer stations. "There will be five in all. Three of which will be on the East Coast and two will be on the East Bank. We will have a modernised system … of …dealing with recycling."
The minister informed that there will be no direct cost to the Guyanese public. "Mind you we are talking about recyclable waste. At the household level we generate waste that is biodegradable," he added.
Permanent Secretary Collin Croal said a number of expressions of interest were received from nine companies. "Cabinet took a decision to assign the Ministry of Local Government the responsibility for reviewing these expressions," he said.
The companies were asked to submit detailed proposals and were subsequently ranked based on this and additional information provided.
"The ministry assembled a team which we call, 'the solid waste team'", which recommended the top ranked company. "…We subsequently received no objection from cabinet to this number one company."
Minister within the Local Government Norman Whittaker said, "What we are about to see takes us a huge stride forward with respect to recycling of waste. As I understand it, it is an environmentally safe way in dealing with waste and as I understand it, the company has much experience dealing with solid waste and it is for these two reasons we are looking… to use the experience of this company," he said.
Around the Web