According to UWSC, Yasmin Steele won the second prize of a trip to Trinidad donated by Caribbean Airlines.
Amanda Alli won the third prize of a BlackBerry Bold donated by Digicel.
A trip to Santa Mission, donated by Wonderland Tours was the fourth prize won by Faraz Kalamadeen; Air Services Ltd donated the fifth prize of a trip to Kaieteur won by J Kronbauer and Erika Tularam took the sixth prize of a day trip to Arrowpoint Resort, donated by Roraima Airways.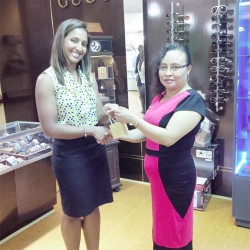 The seventh, eighth and ninth prizes of a stereo set, donated by Rani's Fashion, a microwave donated by Thani's and a basket of chocolate-covered strawberries from Reminiscence were won by Riaz Ally, V & F Pires and Sebastian Mootoo respectively.
Chirag (only name supplied) won the 10th prize of Massages for 2 from Therapeutic Spa; Sophia Ally held the ticket drawn for the 11th prize – a beauty hamper from DeSinco while the 12th and 13th prizes of a gift certificate from Nanda's Fashion and a spa day at Nayelli's Salon were won by Faye Lee and Sunita Vaswani respectively.
UWSC took the opportunity to express sincere thanks to its donors and sponsors and those who attended its fund-raising Halloween Fair to aid its efforts of supporting differently abled children.
The raffle was drawn at the fair, which was held on Sunday, October 27.
Around the Web