At ten years old little Sasha Davi Bharrat's only wish is to "get an education," but she is prevented from doing so because she suffers from a rare condition that speeds her skin cell turnover, causing the top layer to shed six times faster than in a normal person.
Owing to this condition, which according to her mother causes her to leave "skin everywhere she sit down," Sasha is unable to attend school, and her parents' attempts to have her home schooled have proved futile; even reaching out to the Ministry of Education has not yielded a positive result.
Not only has Sasha had to face the cruel taunts of children on the few days she attended school,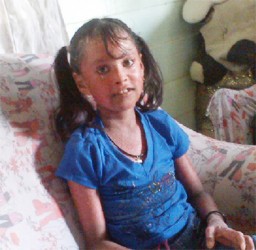 but her parents had to deal with the objections of other parents who felt the condition was contagious. And because the condition worsens when the individual is in the sun or the place is extremely hot, there were many days when the child cried out in pain after a few hours at school. As a consequence she is unable to attend school.
"Is everybody we turn, we went to the ministry in Georgetown, they send we back to the education office in BV nothing… we ask if is even three hour a week somebody could come and teach she, but still nothing…" a frustrated Ganga Bharrat told the Sunday Stabroek in an interview.
"I teach she all I know, me ain't know nothing more but she want to learn," his wife Jennifer said as they sat in their Mon Repos, East Coast Demerara home recently.
As her parents spoke Sasha sat down quietly and observed them and sometimes she whispered to her two-year-old brother to be quiet while she remained engrossed in the conversation that was centred on her.
"I want an education, I love Maths," the child said when asked, adding, "I would like to be a doctor so I can help people."
Her wish to be doctor stems from the fact that Sasha has been suffering for ten years from the rare condition lamellar ichthyosis which affects just about one in 600,000 people worldwide, and it would come as no surprise, therefore, if she were the only person in Guyana with that condition.
When Sunday Stabroek was at the home recently Sasha was "having a good day" according to her parents, which means that while her entire skin was dry and flaky it was not as bad as it sometimes is. The bad days will see her skin cracking and bleeding and she will be unable to walk, as the soles of her feet are affected, or do anything for herself on account of the pain.
The 'good days' come when it rains and the place is cool, while the bad days ‒ which are many ‒ come when the place is hot.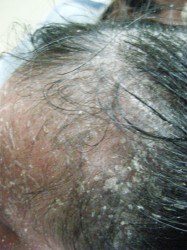 Sasha's condition is caused by genetic abnormalities that affect the shedding of skin and according to information obtained online it occurs when both of a child's parents carry a recessive gene; in such a case, there will be a one in four chance that their child will have the condition.
The skin usually appears to have large plate-like scales which often are rather dark or brownish in colour. The scaling often involves all of the skin although the face may show milder changes. The condition usually appears in the first few days after birth, lasts for life and can be very severe. There are two variations of the condition; in one case only parts of the skin will be affected, while in the other every part of the body from head to sole is affected.
Unfortunately, in Sasha's case her entire body is affected and since there is no cure the best that can be done is to apply creams that would result in less shedding of the skin. The condition is also better controlled in a cool climate than in a hot one.
Three months
Sasha's father said they realized something was wrong with their daughter when she was about three months old and her skin remained dry and flaky.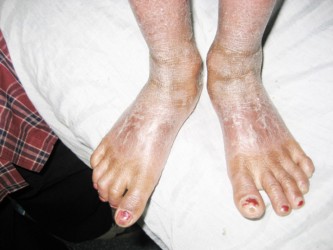 "We know that when some baby born them skin does be dry and flaky but we realize that she own like that all the time," her father recalled.
This prompted them to take the child to the Georgetown Public Hospital Corporation (GPHC) but doctors there said nothing was wrong and gave them a cream to rub on her skin.
However, as the little girl grew older her parents eventually accepted the sad truth that something was definitely wrong and for years they went from doctor to doctor looking for help.
"We spend all we saving, everything, because we want our daughter to be okay, but we didn't get any help," her mother said.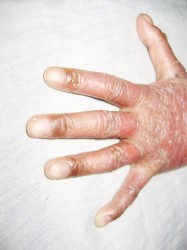 She said it got so bad at one time that private doctors looked at their daughter "on credit because is when me husband get pay on the weekend is then we pay them, but still they couldn't help us." The couple said it was a Cuban doctor stationed at the GPHC who eventually diagnosed the condition after their daughter was admitted to the Intensive Care Unit.
The parents chronicled years of struggle that has seen them exposed to the worst side of mankind, from strangers asking them in the bus if their child's condition was contagious, to neighbours and others making anonymous calls to their phones and making cruel remarks about their child. Doctors also promised that they could cure the child but after draining the parents' finances the condition remained and the parents were left broke and distraught.
Her father called the name of a particular doctor whom he said indicated to them that his son had the same condition and he had cured him.
"We had to pay he fifty thousand dollars every three weeks for three months and he had she on a strict vegetarian diet and most of the things he tell we to use we had to buy it from his clinic. But we didn't mind paying the world, but it hurt that when it done Sarah (Sasha's pet name) is still the same," Ganga Bharrat said, his voice breaking at one point.
There is also the experience of a woman in their neighborhood promising to go to Suriname and get help for the child.
"We trying everything you know, because we want we daughter to get better," the father said in an attempt to explain how they fell for the woman's scheme which saw them giving her eighty thousand dollars.
He recalled that at the time they did not have all the money but they gave her $30,000 and a gold chain he had made for his wife with the understanding that after they paid off the sum the chain would be returned.
"But we pay she and she refuse to give back the chain and then call the police on we and say we lying. Up to now we ain't get back the chain and I tell the police if she been heal we daughter we wouldn't get time with the chain, but she fool we, tek we money and want tek the chain too," the child's obviously angry mother said.
But the parents could have endured all the above and more if there had been a support system in place to help them. Her father works as a construction worker and he also has a music set that he plays on hire but her mom has to remain at home to take care of the child.
"Nobody would want to look at her; sometimes I have to do everything fuh she, bathe she, feed she because when it get bad she crying out fuh pain," her mother said.
They recalled that after the condition was diagnosed it was advised that the child be taken to the US for help, but they admitted that it appeared to be a daunting process, so they opted to seek help to take their daughter to Trinidad. After months back and forth at the Ministry of Health they finally got some assistance to take the child to Trinidad with a donation from members of the public.
The family remained in Trinidad for a year which saw Sasha being hospitalized for months and doctors working on her.
"When she in the hospital where they had air condition it looked like if she get help, and even them doctors thought she get help, but I tell them wait until she come out and deh in the heat and the same thing happen as soon as she come out, the condition get worse," her father said.
In the end the doctors admitted that there was not much else they could do for the child and advised the parents to use a certain cream to help control the condition.
Air conditioning
In an effort to provide some comfort for his daughter her father said he had bought a small air conditioning unit that is in her room, and this helps her to sleep at night even though he struggles to pay the electricity bill at the end of the month.
The man said prior to taking the child to Trinidad it was established that a cool environment would help his daughter and he had approached a government ministry for help.
"She [the minister] say that they could give we a air condition unit but she thinking about how we will pay the light bill and [name of a businessman] promise to pay the light bill for one year but when I went back to the minister and she telling me about paper work and all kind a thing…"
In the end the man said he did not follow up on the issue but had gotten some plywood from the businessman to seal up sections of the house in preparation for the unit. He said upon his return from Trinidad he was working with a man who had a "second hand air condition to sell and I tek it and he deduct the money every week from me salary."
"I want she [the minister] to know that I buy me own air condition; it not new but it working and a still struggling and paying the light bill,' the man said in a clear message to the individual who is still a sitting government minister.
The couple said they are not looking for handouts, but they need help for the child as every day is a struggle and sometimes they cannot even afford to buy the cream. They noted that they struggled and now own their own home, which is modest.
Recently they were advised to seek public assistance, but the mother said she was told by officials that there is no reason she cannot work and they have so far been denied assistance.
But above all else on their mind is an education for their daughter, who even though she has attended only about three months of school in her ten years of life is eager to learn and obviously intelligent. Her father said he had applied for a computer from the 'One Laptop' project but was denied.
"I know people living right in here who have laptop and desktop, get one laptop computer but we couldn't get one to help we daughter to learn."
He said in desperation he took a laptop computer on hire purchase and "every month them threatening to tek it back because I always late with payment but I still have it…"
Little Sasha uses the computer and her parents said she can type and they installed certain programmes to help her to learn, but they have no access to the internet as they cannot afford the additional monthly expense even though it is only $5,000 a month.
"All I want is for me daughter to get an education because maybe one day she would get a chance to go and live in another country, but if she don't get an education wah she guh do?" her mother asked.
And even though they have to endure crude remarks the couple said they ensure they take their child out in the public in the cool afternoons as they have no intention of locking her away and denying her the benefit of enjoying what life has to offer.
"Many nights I cry and I ask God if he could tek me life and give daughter… it hard really hard. She sometimes does ask me, 'Mommy you all fed up of me?' and I does cry more and tell she we could never fed up of she, we love she," Jennifer Persaud said almost in tears.
As she spoke her daughter looked at her, then at her father before bowing her head.
Explaining some of the difficulties caused by her daughter's condition Jennifer said every morning the child's entire bed has dead skin. She said, "wherever she sit down or touch is skin and is whole day ah sweeping up skin. When a getting a visitor I have to bathe she and put she to sit down one place."
But Jennifer does not mind the difficulty if only her daughter could get an education and had a better appetite, as many days she has to be forced to eat.
"All we want is to give her a chance; she can see, hear, walk and talk and she could learn… she just needs a chance…" were the poignant last words of her father as the interview ended.