A miner will make his second appearance at court today, after being remanded yesterday over the murder of Brazilian national Vanderlei Kienen during a robbery after which his two alleged accomplices carted off $17 million.
Robert Paul, 37, of Stone Creek, Mahdia, was not required to plead to the indictable charge when he was arraigned at the Georgetown Magistrates' Court.
It was alleged when Magistrate Judy Latchman read the charge against Paul, that on November 20 at 111 Miles Potaro, Mahdia Essequibo District, he murdered Kienen in the course of furtherance of a robbery.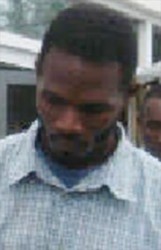 The police's facts, read by Prosecutor Reanetta Bentham stated that on November 20 around 18:45 hrs, Paul along with two others went into the home of Kienen, who bought and sold gold and operated a money transfer business at Mahdia.
While at Kienen's home, Paul and his two alleged accomplices, according to Bentham, stabbed the man several times about his body. The two accomplices, who are currently on the run, allegedly escaped through the back of the house with the cash, while Paul reportedly escaped through the front.
Kienen was subsequently rushed to the Mahdia District Hospital where he succumbed shortly after.
Investigations, which are still ongoing, led to the accused being later arrested and charged.
Attorney James Bond, who represented Paul, stated that his client related to him that he was forced to give a caution statement to the police under threat that he would be shot and killed.
Bond added that Paul also told him that he signed the statement only once, but he later saw three additional statements, some of which did not match his.
He also added that his client works close to where Kienen was killed and was seen by the police multiple times after the attack and was not arrested. Bond further stated that Paul was subsequently arrested on the public road, which showed he was not in hiding from the police.
The matter was adjourned to today at Court One.
Around the Web