A state witness yesterday testified that one of the women on trial for the murder of US-based Guyanese Motilall Singh had paid him US$700 to murder the man.
The witness, Keith Boodram, called 'Ravi' and 'Tall man,' told Justice Navindra Singh and a 12-member jury in the High Court that he did not commit the crime but did take the money and invested it.
Boodram recalled that on September 2, 2009, at about 19:00 hrs, he received a phone call from murder accused Bibi Farida Khan, who said that she wanted to see him at La Jalousie. He said that he drove over and when he got there he saw Khan and her sister on the road and she told him that her stepfather was in the country and she wanted him to kill him. Boodram said he looked at her told her, "Me don't deh in duh." He stated that she had some money in her hand and she then threw it in the bus and told him to think about it, after which he drove away. Boodram said when he got home he checked the money, which amounted to US$700 and he later used it to invest in his business.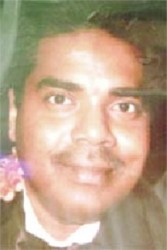 Khan, called 'Pum,' Shamiza Khan, called 'Sham,' Hoosman Khan, called 'Strong Man,' Bisoondial Mahadeo, called 'Weed Man,' all of Windsor Forest, are on trial for the murder of Singh, which occurred on September 7, 2009 at Windsor Forest. The bloodied body of Singh was found close to a tiny bridge at Second Street, Windsor Forest. A post-mortem examination revealed that he had been stabbed 21 times. A fifth person, Ayube Hamid, called 'Little,' was also charged with the murder but he died while in prison.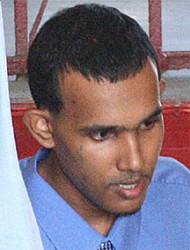 Defence attorney Glenn Hanoman, who is representing Mahadeo, had made an application last week to have the alias of his client not read as this was not the name he accepted as being his name, but Justice Singh denied the application. An application was also made to have a separate trial for Mahadeo, but the trial judge also denied that application.
Boodram was one of three witnesses who testified yesterday for the prosecution, which is being represented by Senior State Counsel Judith Gildhaire-Mursalin. In her opening address, Gildharie-Mursalin told the jury that on the day in question, Hoosman Khan went to the Den Amstel Police Station and told them that he was walking with his stepfather when three men attacked them and killed his stepfather.
In his testimony, Boodram recalled that on September 7, 2009, while at his Cornelia Ida home, several policemen came and escorted him to the Leonora Police Station, where he saw five people, the four accused and another person called 'Fat Man'. He said that he then gave a statement to the police.
After his evidence-in-chief, he was cross-examined by Hanoman, who asked him if the money paid to him was to kill Singh and he replied yes. Hanoman asked if he had given a statement to police saying that he was not the person who murdered Singh and Boodram said yes.
Hanoman suggested to the witness that he knew one of the officers who arrested him so well that he called him by his first name. He went on to ask the witness if on February 4, 2010, in answer to a question by Senior Counsel Bernard De Santos he said that one of the detectives dealing with him was Terrace Paul. The lawyer also suggested to Boodram that the police believed what he said and sent him away after he gave a statement saying he had not killed Singh.
Boodram said that although he was in the police force from 1994 for 18 months, after which he left voluntarily, he did not know Paul from "being in the force" and that he had only known him from seeing him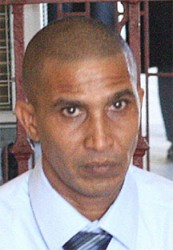 around. Hanoman suggested that he and Paul knew one another and that he begged him to release him if he gave evidence in the matter but Boodram denied this.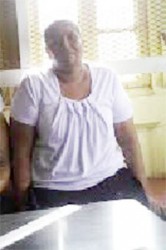 In his cross-examination, De Santos, who is representing the Khans, suggested to the witness that he kept the money because he wanted to give the impression that he will "do the work". De Santos also suggested to Boodram that neither of the two ladies went to him and offered him any money. The lawyer further suggested that if the police had not arrested him, he would not have made a report about the matter, to which he replied, no.
Boodram was also questioned about his business operations in 2009, and he said that he used to drive around and sell cosmetics.
DeSantos suggested to the witness that he concocted a statement with the police, particularly Paul, to save his own skin. Boodram said that this was not the case, he just told him what he knew.
Deputy Superintendent Paul, in his testimony, said that he conducted investigations into Singh's murder. He recalled confronting Hoosman Khan, Bisoondial Mahadeo, Shamiza and Bibi Farida Khan and Hamid each with the allegation that they had murdered Singh, following which he cautioned them and took them into custody.
Hanoman, in his cross-examination, asked Paul if any witness statement was taken from anyone who claimed to have seen if the murder took place, but he said that he could not recall any such statement. He told the court that he had reasonable suspicion that Mahadeo had committed a murder and this information was based on something that someone had told him. He, however, said that neither he nor the police ever asked the person to present a written statement. He also said he would not provide the name of the person who he knew well; he was not aware if the person had anything against the accused and did not think it was important to investigate if there was any malice between the person and the accused.
Hanoman finally suggested to the witness that when Mahadeo was booked at the station, he was booked with the call name 'Ricky' and not 'Weed Man,' since this was a name that he invented for him. Paul, however, said that when he spoke to the accused, he acknowledged that his nickname was in fact 'Weed Man.'
Meanwhile, Ganesh Kissoon, a nephew of the deceased, told the court that on September 9, 2009 at 08:00 hrs he was present at the Georgetown Public Hospital Mortuary where he identified the body of his uncle. Under cross-examination, Hanoman asked him if the body he identified was the same that was handed over to him and Kissoon said yes.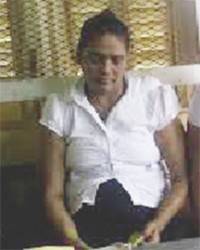 The trial is continuing today.
Around the Web