In the wake of recent tragedies where licensed firearm holders have used their weapons to kill others and themselves, Home Affairs Minister Clement Rohee yesterday said he may be approaching the president on reviewing the gun laws while expressing concern about the demand for weapons.
Rohee, who resumed work after a brief illness, made these comments during the opening ceremony of a two-day National Conference for the Prevention of Interpersonal Violence held at the Guyana International Conference Centre at Liliendaal. The conference is being held under the theme "Working together against interpersonal violence."
The forum coincided with United Nations' International Day for the Elimination of Violence against Women, which was observed yesterday.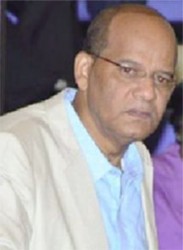 Addressing the gathering, Rohee said "Every-body wants a gun. What the hell they want with this gun [for]? I don't know. What I do know is… a man pulled a gun on his sleeping wife." The minister was referring to the case of businessman Ramdat Lokhnauth, who shot his wife Siromani Lokhnauth dead before turning the gun on himself. The Lokhnauths, who were reported to have been in the process of finalising their divorce, were found in their bedroom with gunshot wounds to their heads.
There was also the prior case of miner Deryck Kanhai, who killed four people during an almost four-hour standoff with lawmen. He was granted two gun licences even though he had a history of violent behaviour.
Rohee said that at the moment people are behaving as though they are living in the United States, where under the constitution there is a right to bear arms. "I am considering approaching the president to ask him let us review these gun laws," he said, while later noting that it is not only Guyana's anti-money laundering status that is embarrassing the country but also people shooting each other.
"I don't know what is going on. I don't know what society is gonna say about it. Maybe we must open the debate," he said, while adding that persons should debate whether citizens should have the right to bear arms and if not what the alternative should be.
Giving his view on an alternative, the minister said, "My answer is go aggressively after the criminals. Go aggressively after those who are selling, buying, lending or trading guns."
He also told the gathering that a special request has been that "in conjunction with the firearm licence approval board, the Home Affairs Ministry should have a say on whether to renew or not to renew a firearm licence".
According to Rohee, this should not be something automatic.
The minister called for the conference to not be "just another conference" but instead one in which all energies, attention, and focus should be placed on the topic at hand.
He recalled that earlier this year there was a regional gathering to discuss interpersonal violence and what was enlightening was that besides the ministers of National Security and Home Affairs, there were representatives from the ministries of Education, Health and Youth, Sports and Culture.
He noted that the minister and the police cannot tackle this issue alone. "I have said it over and over again…the police cannot do it. It means that the police need their partners in the social sector, the Ministry of Education, the Ministry of Health, Ministry of Youth, Sports and Culture.
"Anyone who believes otherwise is wasting time. Because when we look at violence it is an all-embracing concept, an all-embracing phenomena. How do we expect the police to be at every home, to be at every door step, to be at every yard, to be at every rum shop, to be at every place where people have social gatherings…? When a man picks up a gun and shoots his sleeping wife and then after shoots himself, is the police expected to be in their bedroom? How is that to be prevented? Who is to stop these things from happening?" he questioned.
According to Rohee, violence can be tackled through education, schools, homes, Parent-Teacher Associations, youth clubs and sports clubs.
He recalled that he made an announcement last year for 500 persons to be employed as Neighbour-hood Police. "There is not enough police to be in each neighbourhood 24/7 to patrol but if we have 500 or even a thousand of what we call neighbourhood police on a daily basis, they ought to know exactly what is happening in each neighbourhood," he said. "Everyone has to make a contribution in this struggle to address interpersonal violence," he added.
 'Free from fear'
Meanwhile, President Donald Ramotar, in the feature address, called for the swifter dispensation of justice and a general reexamination of the policies that are in place to address interpersonal violence.
According to a Government Information Agency (GINA) report, Ramotar stated that the conference is aimed at developing a framework that will see the creation of national plan to counter violence in all of its manifestations in Guyana. It forms part of a broader ongoing public engagement to address various aspects of public security in a comprehensive way through a participatory approach, he said.
Ramotar also spoke of the huge costs that have to be borne by countries as a result of violence and GINA quoted him as saying that "for those of us who want to see the quality of life in our country improve drastically, it is not only a question of the economy, but also of the question of being free from fear in your own homes."
Interpersonal violence takes a toll particularly on human lives, he said, while adding that apart from being a personal and social problem, it is also a public security concern since it impacts negatively on the social order and safety of citizens.
Ramotar explained that while the state has a general responsibility for the preservation of law and order and for the protection of its citizens, this issue can by no means be the exclusive preserve of government.
"The state is entrusted with preserving law and order but citizens and civil society have an obligation to hold and defend public safety and security… it is the responsibility of all sectors and all stakeholders to take a stand against violence… together we must reject and condemn all forms of violence; collectively we must stand in solidarity with the victims of interpersonal violence and united we must work to fashion strategies to combat this threat," he was quoted as saying.
He reminded those gathered that interpersonal violence is a challenge that is by no means unique to Guyana, as the Caribbean is besieged by the high level of violence as well as developed countries.
The disproportionate level of violence in the region remains a source of deep apprehension to regional leaders, Ramotar said adding that the high level of violence is particularly painful considering the sacrifices of those who fought and died in the struggle to overcome violence of plantation and structured violence of colonialism. "The level of violence experienced in the region today dishonours the glorious and heroic struggles of those who resisted the evils of empire so that our people can live in freedom, peace and prosperity," he observed.
According to GINA, Inter-American Development Bank (IDB) representative Sophie Makonnen spoke of the consequences of interpersonal violence, particularly to the social sector. She said it is a vicious cycle which slows economic growth and impedes social progress.
She also reaffirmed the IDB's continued support to Guyana to address the issue of interpersonal violence.
The conference was organised by the Ministry of Home Affairs and includes participation of a wide-cross section of stakeholders, including law enforcement, the judicial system, faith-based organisations, civil society and several governmental and non-governmental agencies.
The involvement of such a diverse grouping is intended to promote inclusivity and ownership in the plans that will be developed to combat this scourge, GINA said.
Around the Web