The days of the century-old Fogarty's Water Street store may be numbered with its reported sale alongside its Norton Street bond to Trinidad-based American Stores Ltd, which has started its regional expansion here.
Efforts yesterday to contact management of the Fogarty's Store, which is owned by the Laparkan Group of Companies, proved futile as this newspaper was told that the person authorised to speak on behalf of the company was not in office at the time.
However, a source has confirmed that the Water Street store was sold as part of a deal with American Stores Ltd and that Fogarty's would use the building until the end of 2013 as stipulated in an agreement.
"(the company) will move over to Water Street next year for now we are just focused now on the Regent Street location," a source close to American Stores Ltd told Stabroek News.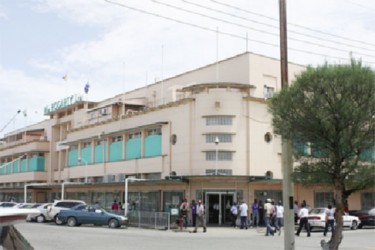 But when contacted, Regional Business Director of American Stores Ltd, Jared Hamilton would not give a definitive answer whether his company had also purchased the Fogarty's Water Street property. "Negotiations are currently ongoing. When or if you see the building branded that is in this colour (pointing to his company's signature red, white and blue paint), you know that it's ours," he said.
Hamilton was quick to point out that the Fogarty's building was not a heritage building, suggesting that if adjustments are made it should not be a public issue. "Fogarty's is not a heritage building so more stores can be added and lots can be done to it… besides it's a private property and we don't see if it being sold would be any problem," he added.
He also made reference to the St Barnabas Church, which was located near to the American Stores  on Regent Street. He pointed out that the church was a heritage building and was nonetheless sold. "That was a heritage building and it was torn down" he stated.
American Stores Ltd will begin its regional expansion with the opening of two furniture stores in the city alongside plans to offer commercial services in four other key locations across the country, company officials announced almost two weeks ago. The first of the two stores will open its doors to the public on Friday.
Hamilton, at a press conference two weeks ago, informed that the stores are located at Regent and Cummings streets and 3132 D'Urban Street. He stated that the company also expects to commence commercial services in Linden, Corriverton, Bartica and on the East Bank of Demerara within six months of the opening of its Georgetown locaions.  No disclosure was made of the scale of the investment.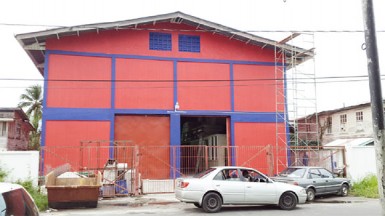 So far, the company has employed over 20 persons to work at the Regent Street location along with experienced Trinidadian staffers who are to assist in training and development. In a press statement, the company noted that the local staffers will be sent to Trinidad and Tobago for further training and "firsthand" experience of the company's operations there.
According to the company, American Stores, known as "the peoples' store," is a family-owned furnishing business which has been serving Trinidad and Tobago since 1950. The company started with the founder Shaikh Hosein buying furniture from Americans in the Second World War. The Americans, who were leaving the small island, sold their furniture to Hosein.
Currently there are 13 branch stores in Trinidad and Tobago.
According to a profile sourced to Fogarty's website, in 1911, Irishman William Fogarty purchased the property at 34-37 Water Street, Georgetown and William Fogarty Limited was then registered as a private company in then British Guiana.
The building was destroyed by a February 23, 1945 fire that also ruined many other businesses on Water Street, but it was rebuilt and reopened with 24 departments on October 19, 1950.
In 1987, the Laparkan Group of Companies acquired William Fogarty Limited.
The William Fogarty's Store is said to now house departments that include a supermarket, pharmacy, gift shop, jewellery store, cafeteria, furniture store, travel agency and stationery store.
At present, in addition to the Water Street store, the William Fogarty's Store operates three branches in the Berbice region at New Amsterdam, Rose Hall, and Corriverton.
Around the Web