(Barbados Nation) Michael Taitt is a gymnast, dancer and teacher, who has become known for his performances as the shaggy bear and green monkey at cultural events.
For the last three years he has taken that skill to help physically and developmentally challenged children at the Sunshine Stimulation Centre with their movement and balance.
"We roll, which for some of them is extraordinary," Taitt said. "They get to go upside down. For those who cannot walk by themselves, I can balance them and they get to feel empowered when they get as tall as me."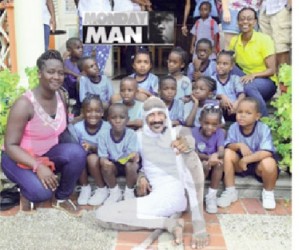 This, he said, helped with their confidence, helped to stretch the muscles and aided mobility in the joints for those who were not using them. "They get confidence in their ability. Most of them cannot say it, but you can see the joy in their faces," he said.
Outside of the Sunshine Centre, Taitt performs all over Barbados and beyond in the role of traditional Bajan folk characters, sometimes with Dancin Africa, Dance Nationale Afrique and the Barbados Dance Theatre. He also freelances at various hotels and with other production groups.
Taitt said at this time of the year he was very busy at schools showcasing cultural aspects of Barbados. "They are the best audiences, they love us," he said.
His other way of interacting with children is through teaching gymnastics. He also works with the Community Development Department assisting with the Community Dance Fest as a dance coach.
Working with the children is very gratifying to him.
Taitt said that initially all his flipping, dancing and tumbling was self-taught and learnt from others, but he then went on to study formally.
He has received several honours for his dancing. He took the Governor General's Award, Prime Minister's Award and gold medal at NIFCA for Keeps Me Sane, a dance choreographed by his girlfriend. He also won gold in 2006 for a piece called Change.
The 51-year-old recounted that when he was six, growing up in Guyana, he saw a man performing and he was walking on his hands. He was so captivated by it that he went home and would handstand against the wall until he was able to do the balancing act by himself.
Additionally, there was a Peace Corps officer in Guyana who had a truck and had mats and money to buy costumes, facilitating Taitt and some other young men in performing at various primary schools all over Guyana.
When he moved to Barbados at 17, he met a group of youngsters who were interested in flipping and they trained at the Hilton Hotel.
His formal training took him to Long Island University, New York, where he did a bachelor's degree in physical education with a focus on teaching. He also did courses in ballet, modern and African dance.
Taitt said he enjoyed teaching and wanted to expand his gymnastics school by getting more equipment and a van so he could go to various schools to work with the children.
He said he would like to touch all schools because the children could benefit from the physical activity.
"Movement needs mental focus, discipline and concentration. It is not just the body; the mind is always leading first, it all starts there. Children will have improved mental and physical functions by engaging in these activities."
Around the Web