Over 300 residents from Mahaica and 201 residents from Albouystown and its environs benefited from the One Laptop Per Family (OLPF) Programme ongoing distribution in Region Four on Saturday.
A release from the Government Information Agency (GINA) said that 118 persons received laptops from a distribution exercise held at the All Stars Sports Club, Supply, Mahaica, which targeted the residents of Vereeniging, Belmont, Supply and Stratavon.
At the distribution exercise, Member of Parliament Indranie Chandarpal acknowledged the importance of Information Communication Technology in this technologically-advanced age.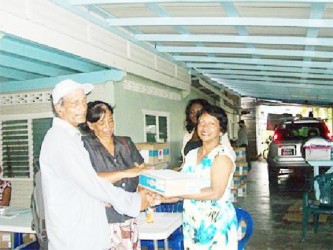 While she encouraged the recipients to make full use of the laptops to elevate themselves, Chandarpal also urged parents to keep track of what their children were looking at on the internet, and to also monitor their conversations with strangers on social networks.
At another distribution exercise at Chowbay's residence, Unity, Mahaica for surrounding communities, including Voorsitigheid and Hand-en-Veldt, MP Bibi Shaddick advised the 200 recipients to care the laptops and make good use of them. Beneficiaries expressed gratitude that they will be able to become computer literate and also would be able to communicate easier with their families. MP Manzoor Nadir was present at another distribution exercise at the Guyana Islamic Trust, at Albouystown, where 201 laptops were given to residents of Albouystown, River View and Ruimveldt.
GINA reported that beneficiaries of the programme expressed their gratitude to the government. It stated that one recipient, Aubrey Hamilton, said that he was very happy to have received the laptop because his kids could now access information right from their home.
Another beneficiary Lakeranie Karan said that she was very glad that she received her laptop because she has been waiting a while to receive it and now that she has, it will benefit her, as well as her family since she recently got married and moved to Berbice, so it will become easier to communicate with her relatives.
Saturday's distribution exercise followed a recent one in Sophia which resulted in 600 laptops being distributed and Kitty, where residents collected 398 laptops.
As part of the OLPF programme, a five-day training session is also being offered to the beneficiaries, the release added.
Around the Web