Incessant rain, which began in the wee hours of yesterday, left most of the city under several inches of water, closing schools, shuttering businesses and causing millions of dollars in damage.
In Albouystown, one of the worst affected areas, residents were livid, stating that the magnitude of the flooding could have been prevented had the drains been cleaned on a regular basis.
"They don't clean the drains so now yuh see what happen? One day of rain and this whole place flood out bad. Them children can't even go to school nothing," one resident said.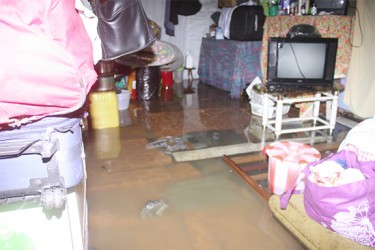 Others said that yesterday's flood was worse than the 2005 Great Flood. "When the place de flood in 2005, Punt Trench didn't flood. Now today the whole street de covered in water. Wah gon happen tomorrow if the rain continue?" another resident questioned.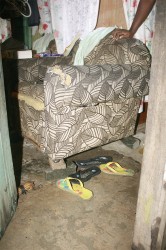 The residents are now calling on the relevant authorities to put in place proper measures so that the drains can be cleared in a timely manner. One resident said he had to put concrete blocks under his chairs and place his appliances on top of the chairs so that they would not be damaged.
Several other persons in south Georgetown were not so lucky. Residents' fridges, washing machines, stoves and other appliances were damaged by the floodwater which rose alarmingly while most people were sound asleep.
In the business sector, many employers and employees arrived at work to find their bottom flat offices under water. There were reports of damaged furniture, computers and files that would have been stored on the floor.
Charlestown residents were stunned early yesterday morning by the rising water and many thought that a koker had been left accidentally open.
President Donald Ramotar yesterday said that effective management of the Mayor and City Council could have lessened the impact of the flooding that was experienced. He added that with local government elections, this problem will soon be resolved.
Georgetown Mayor Hamilton Green, in a telephone interview last evening, said that this was not the case as the council was being run by Acting Town Clerk Carol Sooba. "The President knows fully well that the council is being run by the town clerk and the minister and they have been ignoring the elected councillors and the mayor," he said.
 Dilemma
"Our present dilemma is that our main canals, Sussex Street, Lamaha and North Road, have not been desilted because we are short of funds." He said that in spite of decisions that were made by the full council to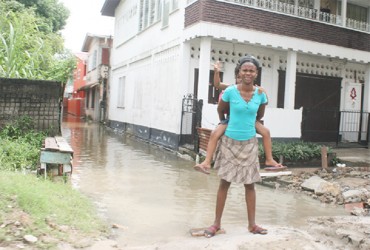 settle with the private truck contractors, the acting town clerk went ahead and dismissed the solid waste contractors, "without the consultation of the council, she ignored these decisions.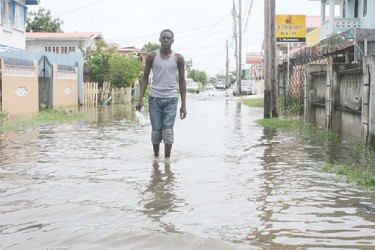 "A recommendation was made by the engineer to take a truck that was down to have it fixed and a cheque was prepared but the town clerk has it on her desk for months and has taken no action. I have expressed concern that as the Christmas season is approaching good sense would suggest that the municipality needs to mobilise all resources to take care of the increase of waste" that will be generated, Green said.
According to Green, all of the pumps are working with the exception of Kingston. He said the Lamaha Street canal was working at full capacity. The mayor also expressed concern at the 11 outfall channels which he said have to be cleared so that water can flow swiftly at low tide.
Green also noted the general indiscipline in society as it relates to non-biodegradable items. "We asked for non-biodegradable items to be banned ten years (ago) and we are glad to learn from the media that this will be banned next year," he added.
Regent Street
Meanwhile, several businesses in the city's main shopping area, Regent Street, were forced to close as the floodwaters poured in.
Workers at the few valiant businesses that remained open were seen trying to cope as best as they could by sweeping, bailing, or pumping water out of stores, even as more poured in.
Frustrated vendors lamented that the floodwaters dissuaded persons from doing their regular shopping. Bourda Market, usually packed with persons throughout the day, was almost deserted, with just a few persons on foot and in cars braving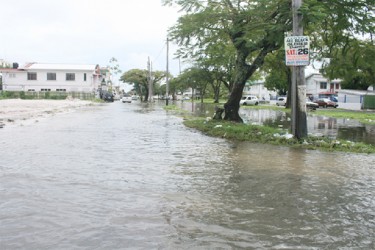 the water to do their shopping.
Debra Payne, a greens vendor in Bourda Market, related that she had been forced to start her trade later than usual due to the pouring rain yesterday morning. When asked about how late she'd be working, she stated that she'd try to stay until 10 pm, an hour later than she usually does, to compensate for the poor sales during the day.
Anil Amin, also of Bourda Market, lamented that he had suffered loss of goods due to the flooding. His losses included rice, packeted chowmein, soaps, peas and several other items. He called for the pumping of the water in the market, which he said was a major inconvenience to vendors there.
Nyasha Glynn, who works in a meat stall, was forced to step into the water each time a customer stopped by, just so that she could deliver their purchased meats to them. The water around her stall was more than ankle deep while inside was also flooded.
Glynn said that though she feared an electrical fire due to the refrigerator being on, there was nothing she could do about it since the meats needed constant refrigeration.
When speaking with this newspaper, some persons attributed the floodwaters to the garbage that clog drains all around the city.
Trisha Wharton, who works in a clothing store along North Road, opined that even with the impending ban on Styrofoam products, something else needed to be done.
While some were lamenting the floodwaters, others used the misfortune to their benefit. Along Regent Street, several persons were seen selling rain boots, umbrellas, and rain coats while patrons flocked around them, hoping to get a deal on the much-needed gear.
For the businesses that were closed, there is bound to be some disappointment when they next open to assess the damage done. (Tifaine Rutherford and Desilon Daniels)