Less than a month after fire ravaged the Comfort Sleep Bond, the inferno returned, this time destroying the company's factory also located in the  Eccles Industrial Site.
Fire Chief Marlon Gentle told Stabroek News that at around 6:45 pm this evening the GFS received a call notifying them of the fire.
A security guard at a nearby business establishment told Stabroek News he heard what sounded like "a whistling thunder bomb" and shortly after he saw thick balls of fire coming from the factory.
However the security guard who works  at Digicel's bond, which is owned by Comfort Sleep and is on the left side of the factory, said that he did not hear an explosion but saw flames and dismissed them as workers burning garbage as is customary after a day's work.
"I saw the flames but didn't take it for nothing because them boys is burn when deh done wuk …but when I go round so (pointing to the front) a see is big fire," he said.
Brother of the owner, Paul Krishna,  who rushed to the scene lamented to reporters that he wanted the public to know that the fire was "not natural" but would not go into detail as to what he meant.
Employees of the factory also turned up at the site and some were brought to tears pondering where they will work moreso for the Christmas season.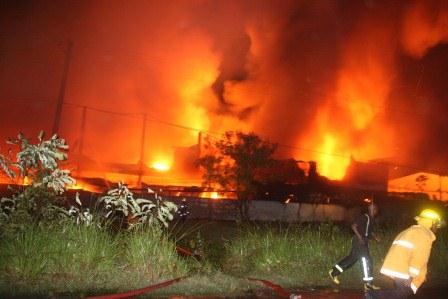 Around the Web