City businesses are still counting their losses after Wednesday's flash flood and incessant rain continued to beat down in certain areas in Georgetown, flooding homes and streets yesterday.
Up to yesterday afternoon, 5.1 inches of rainfall was recorded and store owners were blocking the entrance of their businesses with sandbags. Workers were seen bailing water out of stores, while others were setting up planks from the roadside to enable entry by customers.
Courts Guyana Inc's Main Street store has registered millions in lost sales since Wednesday's flooding. The store was closed on Wednesday after the ground floor was swamped by floodwaters.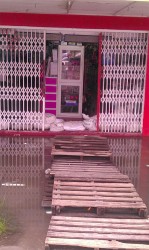 Director of Marketing Molly Hassan yesterday, however, said that although the losses were regrettable they were insignificant and the store was open to the public again. "The rainfall was unpredictable and it's a dilemma but we have moved on from it," Hassan said, while indicating that the damaged materials and appliances were being removed and trucks were arriving with new stocks.
"It's like nothing happened. We had some elves that worked through the night and helped sanitize the ground floor," she added, speaking of employees. She also explained that materials that were damaged were insured, leaving the company with no injury. "The focus now is to replenish our storeroom and increase our sales," Hassan stated. Millions in sales were lost on Wednesday, she said.
Meanwhile, the pavements on Regent Street remained covered with water and some stores were closed. One fabric store owner said that he had lost over 500 pieces of curtains and fifty rolls of cloth.
"I thought 2005 flooding was serious but this is unbelievable. In that flood not a drop of water came into the store but now after we raised the pavement it come in…seems like it wasn't enough," proprietor of Ariel Enterprise Danny Persaud told Stabroek News yesterday afternoon.
Persaud said that when he arrived at his store,  fabrics that were left on the floor were submerged in ankle-deep water. "Right now we are trying to see what we can salvage," he added, lamenting about millions of dollars in losses. "We bailed water, we mop it out…we tried everything…but we unable to salvage some of our fabrics."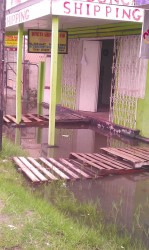 Another fabric store owner was annoyed by the "inaction" of the Mayor and City Council to ensure that the city drains and canals were cleaned. "This happen in the wee hours of the morning. They are mandated to do their work but they go on TV and talk nonsense. What do they expect of us? We ain't suppose to get out of our beds at 2 in the morning and put sand bags to protect our businesses! That's trash!" she said. "They need to do their jobs-they can't sit in their offices and talk nonsense. At one time the city looked good and clean but now it full of garbage and look like no one living in it," the woman chided.
The woman recalled that in the 2005 flood that her store was not flooded and she was shocked when she arrived at her store Wednesday morning and saw her fabrics in water.
Payless Get More Shopping Center had also incurred losses in the flood. Owner Harry Persaud said that he couldn't estimate his losses but was calculating them. He said his store was covered in six inches of water. "We suffered a whole lot of damages, everything in the corner is lost," he said, while blaming authorities for not doing their duty effectively.
Owner of a popular food franchise in the city, Roti Hut, Ann Nasir told Stabroek News that when she stepped into her food place, she had "stepped in water" that was several inches high. "It's hard to tell how much we lost but that day we were closed and today [yesterday] we opened at half day," Nasir said. She stated that sand bags were placed at the front entrance of her building to deter the flood waters. The sand bags remained at the entrance up to yesterday.
"We had to bail water out of the store yesterday afternoon [Wednesday] but the water is still seeping into the store," a staffer of Cellular Connection said, while noting that there was over two inches of water in the store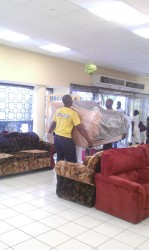 when they opened the doors Wednesday morning. The staffer said an inestimable amount of materials was damaged.