The launch of the Windsor Estates Housing Develop-ment was welcomed by Prime Minister Samuel Hinds as yet another example of how far housing sector had advanced when he formally opened the door to a completed model home aback Peter's Hall, East Bank Demerara.
A release from the Government Information Agency (GINA) said that the prime minister, accompanied by his wife, Yvonne Hinds, and several other invitees were given a tour of the $38M 3,100 square foot furnished model home in the North Haven gated community named 'The Heritage,' that would eventually have over 100 houses.
This first phase is expected to be completed in another 18 months.
GINA said that the second phase, 'Esplanade,' a short distance from North Haven, will have about 80 houses.  These houses will range in price from $22M to $80M.
Delivering remarks to declare the Windsor Estates company open for business, Prime Minister Hinds said that the housing sector has now developed to the point where private housing developments are now being incorporated into the national housing programme.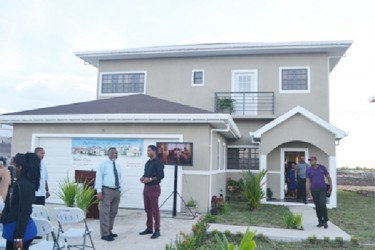 Hinds disclosed that the government was making land available to private developers at subsidised costs, especially when compared to land offered on the private market. He said that this made it easier for many more persons to own their own homes.
GINA said that Windsor Estates' Chief Executive Officer Danny Sawh, in an invited comment revealed that "his company was one the largest real estate developers in the New York/Tri State within the United States of America and the decision was made to invest in Guyana, by offering customers, quality homes at reasonable costs."
According to the company's website, the first phase of its gated community offers "a more affordable living whilst still enjoying the benefits of having twenty-four hour security at the gated entrance, street lighting and night vision CCTV cameras strategically placed in various areas of this development to give residents more peace of mind."
The gated community will also have its own recreation park, swimming pool, showers and changing rooms, kid's playground, water feature, park benches and a walking track, the release added.
Around the Web