By Desilon Daniels
Harmful chemical fertilisers might soon be a thing of the past with new emphasis being placed on composting by the Georgetown Solid Waste Management Programme (SWMP).
Compost is organic matter— such as grass, food and vegetable waste—that has been decomposed and recycled as a fertilizer and soil amendment. Composting is being vitalized through a pilot project under the Georgetown SWMP.
During a workshop yesterday to discuss ways in which the media can work along with the Georgetown SWMP, several of the pilot project's goals were presented, including the introduction of composting, to several stakeholders in communities.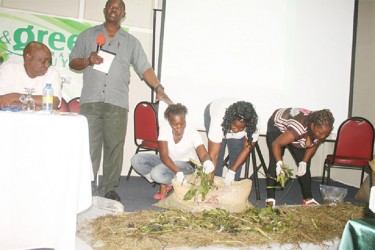 Composting might be a simple solution for a problem highlighted by a member of the media workshop. The Haags Bosch Sanitary Landfill (HBSL), which commenced operations early 2011, was designed to receive 70,000 tonnes of solid waste a year, with a design life of 26 years. To date, HBSL has received 340,000 tonnes of solid waste at a rate of 120,000 tonnes a year. At the current rate, the design life of HBSL has been cut by almost 50%.
The alarming difference between the projected figure and the actual figure might be lessened if the composting strategy by the Georgetown SWMP achieves all of its goals.
The composting project will be piloted in Mocha-Arcadia, Mon Repos, and Coldingen, all communities in Region 4. According to Rufus Lewis, Recycling Manager at the HBSL, these 3 communities were chosen based on the responsiveness of each NDC, evidence of small-scale farming and residential land space, and a stated willingness by residents of each community.
According to Lewis, composting is a money-saving venture. "If you remove about 50% to 60% of the waste you generate off the waste stream, then the cost of managing waste will be reduced considerably [for municipalities and NDCs]." He went on to state that the project can be used to urge citizens to stop sending materials to the landfills and instead use them for composting.
"When you send your waste to the landfill or wherever you send it to, you are robbing yourself of vital nutrients that you can use to grow your own crops at home in your gardens and communities," he noted. Due to the moisture and nutritional content of compost, he said, the life of your soil can be prolonged through its use.
Even in areas such as the Hilly, Sand, and Clay region, compost can be used to bind sandy soil together so that the texture of the soil will not destroy and stunt the growth of crops.
Lewis clarified that he is not petitioning for the "doing away" of chemical fertilisers; however, damage of crops and inevitable infertility of soil are some of the long-term prospects of chemical fertilizers. In comparison, he said, compost always adds to your soil and keeps it rejuvenated.
The project will hope to mobilize citizens from all parts of society, including students who can collect food waste from their school canteens and lunch rooms.
Around the Web