The owner of an 'A' Field Sophia, house that was severely damaged by a fire on Thursday afternoon is accusing the Guyana Fire Service (GFS) of turning up to douse fire with a faulty hose.
Clarence Scott, an 83-year-old former civil engineer told Stabroek News that it was his 12-year-old son who drew his attention to the fire. During the efforts to put it out, Scott was also robbed by persons who pretended they were there to help him evacuate his property.
According to Scott, his son had been listening to music in a chair near the inside  step, leading to the upper flat, when he saw "yellow" flames licking out from the upstairs door.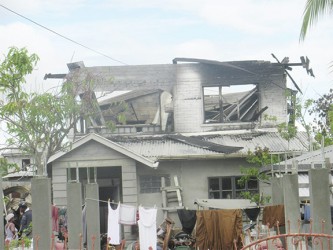 Scott said he then proceeded to check out the upper flat, only to be confronted by a raging inferno in a room on the right side of the building, where a desktop computer was. "I went for a bucket of water and I threw it on the fire," he said, "and like the fire get vex and swing around [referring to the back of the upper flat] and get bigger. So I moved because the heat scorched my head," he said, while adding that he managed to retrieve critical documents.
An incapacitated fire tender arrived late to contend with the inferno, he charged. The late arrival of the GFS in this instance was a result of thieves, who pretended to be Good Samaritans, the man lamented. They added to Scott's woes by stealing his cellphone, jewellery and cash. If Scott's cell phone had not been stolen, he might have placed an earlier call to the GFS.
But he expressed utter disgust at the state of the hose used by the fire service. The man told this newspaper that the hose seemingly had a huge hole which sucked up sand from the outside of his property and deposited it inside.
He further stated that he tried to assist the fire fighters by pointing out where they needed to direct their hose, but they told him that they were competent enough to handle the situation.
Scott also dismissed any suggestion that the fire may have started by anyone cooking in the upper flat of the building. "Nobody from upstairs was at home at the time of the fire and there is no kitchen up there. Everyone comes downstairs to cook…," he said.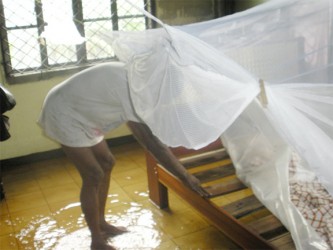 The entire top flat of the two-storey concrete house was gutted, while the bottom flat was damaged by water.
Attempts made by Stabroek News to contact Fire Chief Marlon Gentle proved futile.
This newspaper was told that the fire chief was unavailable to comment on the allegation that a tender with a faulty hose was sent to attend to the fire.
Around the Web