A Region One mother of nine is among two maternity deaths reported for the month of November, bringing the total for this year so far to 15.
Stabroek News was reliably informed that Sandra La Cruz-Henry, wife of the Toshao of Warapoka, an Amerindian settlement located in the Waini River, died on Thursday while delivering her ninth child. The child survived the delivery.
Chief Medical Officer (CMO) Dr Shamdeo Persaud told the Govern-ment Information Agency (GINA) that the 39-year-old woman was advised to deliver her baby at the Kwebanna Health Centre, but instead delivered at her home. The two settlements are located quite some distance apart, this newspaper was told.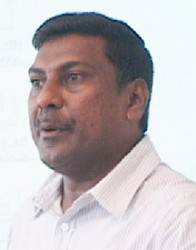 According to Persaud, the woman bled profusely and by the time she arrived at Kwebanna she had already died. The Health Ministry has ordered a post-mortem examination and investigation into the death, GINA said in a press release.
Stabroek News had since been told that a health team went into the area to retrieve the woman's body, which was later transported to the Suddie Hospital Morgue to await the post-mortem examination.
Efforts yesterday to make contact with the woman's husband or other relatives were futile.
GINA said Persaud also reported that on November 23, another death occurred at the Georgetown Public Hospital. It was stated that the mother, who was a 43-year-old known hypertensive patient, collapsed in the labour room and died shortly after. She had an aortic aneurysm that ruptured. Investigations are ongoing and necessary actions are to be implemented, he said.
Stabroek News was unable to locate the woman's relatives.
The release said that the Ministry of Health remains consistent in its monitoring of Goal 5 of the United Nations Millennium Deve-lopment Goals, and "is working on ensuring that all maternal deaths are reported, investigated and appropriate actions implemented to prevent recurrence".
Of the 15 maternal deaths reported for this year, nine were due directly to maternal causes. Two are yet to be classified, while four are related to other causes-two caused by the contraction of malaria during pregnancy and two due to high blood pressure not related to pregnancy.
The deaths that occurred due to direct maternal causes are from post-partum haemorrhaging, pregnancy induced hypertension and septicemia (infection). The mothers were aged above 40 years (three), above 30 years (four) and one 18-year-old.
Persaud told GINA he had observed that the majority of cases of maternal death now occur with older women where previously it was younger women.
Giving a regional breakdown, the CMO said there were five deaths from Region Four, three from Region One, one each from regions Three, Five, Six, and Seven and Eight, and two from Region Two.
Ten of the deaths occurred at the George-town Public Hospital, six of which were cases referred from other regions, the release said, while adding that one death each occurred at the New Amsterdam, Suddie, Balwant Singh and Dia-mond hospitals and one occurred at home.
Around the Web