Alliance for Change (AFC) member Charrandass Persaud on Friday told reporters that he never resigned from the party and does not intend to do so until the PPP/C loses executive power.
Earlier this year, the AFC suffered several defections including overseas-based economist Tarron Khemraj. Khemraj, whose departure was linked to the party's stance on the Amaila hydropower project, subsequently went over to APNU. Rab Mukraj, a Political Science professor and US-based financier, Shamir Ally also left. All three men were part of the AFC's New York Chapter.
Persaud, a lawyer from Berbice, was also counted among the defections and his departure was seen as a blow to the party as he was said to have played quite a significant role in mobilising support for the AFC in the last general elections.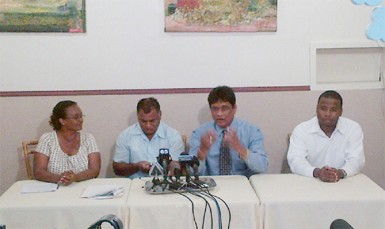 Persaud had told Stabroek News in September that he was leaving the AFC because he was treated as a second class citizen and taken for granted. The AFC, he lamented, had failed to recognise the contributions he made in terms of drawing support for the party in Berbice. He added that many would be left surprised when he announced which party he would be joining.
But on Friday, Persaud appeared at an AFC press briefing with his fellow party members to dispel what he referred to as the inaccuracies reported earlier. "I never resigned from the AFC and I will not resign until the PPP/C is out of office," he told reporters.  He explained that the confusion, which led to reports that he had resigned, stemmed from an issue with another member which has since been resolved.
While clearing the air, he also took the opportunity to highlight a few issues in Berbice, known traditionally to be a PPP/C stronghold. Persaud said that a friend and fellow AFC member who was currently in the hospital in Berbice had to be moved into the ward from the Intensive Care Unit (ICU) since the facility did not have the required equipment needed to take care of him.
He also said that his street which he shares with the deputy vice-chairman of the local NDC in Canefield, East Canje, Berbice is the only one that has been "done up" while the other members of the community are left to suffer with bad roads. He also stated that Berbice is outside the attention of the media and the plight of the people there often goes unnoticed. He said this needs to change, and the people of Berbice, many of whom voted for the current government, need to be given adequate attention, both by the media and the government they voted for.
Around the Web