By Kenesha Fraser
Flooding during the past week continues to affect residents of several Essequibo Coast communities who say that the regional administration has not heeded their many complaints and has been negligent in dealing with the matter.
In Anna Regina, Cotton Field and Reliance on the Essequibo Coast, residents complained bitterly about the flood waters that are affecting them when Stabroek News visited those areas yesterday.  R. Harrynarine, of Cotton Field told this publication that he suffered many losses. "Since Monday we get flood but the water is going down and coming up again. When we report these things to the council, they don't do anything about it. At the corner, there is couple of bags that they full up with sand so the water can't run and go nowhere. I don't know who put the cement bags there but it affecting all of us here. I am running a food business and when the water go down, is nuff work to wash off the concrete," he said.
Another resident said that the water was very high on Saturday and got into her home. "All in the house was full of water. We had to move everything to prevent them from getting wet. We usually rent out our downstairs (flat) to people and because the water was so high, all the girl appliances get wet and she had to throw them away. Is every day we pumping water but it still coming back," said Mrs. Namdram, also of Cotton Field. "We went in to the Chairman and complain about the matter but they ain't doing anything about it," she lamented.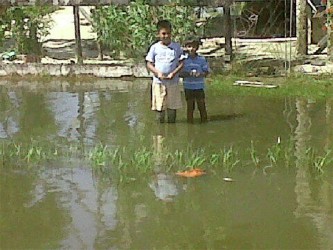 When contacted, Chairman of Region Two Parmanand Persaud said he would speak on the matter today.
Meanwhile, at Reliance, a young woman who identified herself as Annie recalled that it has been a few years since the village experienced such floods. "When the rain falls, the water never reaches so high. This ain't happen in a long time. We hear that is just one pump working on the whole Coast which is not enough. We also hear that the koker at Three Friends is not working so is just the one at (Anna) Regina. The water came till up to our door yesterday (Saturday)," she said.
Devika Persaud, a resident of Land of Plenty, told Stabroek News that on Saturday morning when she woke, it was raining heavily and when she went to the bottom flat of her house, she saw some of her belongings floating in the water. "My barrel with my curtains and everything else was just floating," she shared, while adding that "this is the third time this flood attack me."
"We have a severe problem in this village. The koker is at Three Friends which is the next village and it don't work regularly and there is somebody who have to look after it. There is also a pump for the big trench that is supposed to pump water out to the sea but like this thing don't work. When you complain to the Regional Adminis-tration, they always saying that the rain is God's work and I agree that it is God's work but they have to put things in place," the woman asserted.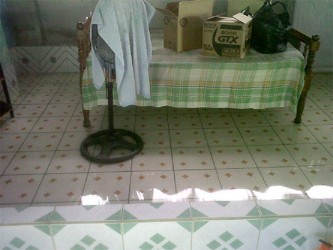 She told Stabroek News that she visited the Regional Administrative Office on two occasions but officials there never heeded her complaints. "This government will be glad if everybody stay silent. I lose a lot of things. I had about ten bags of cement and all duck. The government should give help to people who are victims of floods but they don't do that and I know long ago the PNC used to do that. This may look like a minor matter but it is very, very serious. When I see the water, I get so confused that I run in the store room to get the valuable things. All my children text books float away," Persaud said.
In addition to her bags of cement and her children's text books, the woman said that she lost a fan.
Meanwhile, when Stabroek News visited Charlie's Computer School at Cotton Field, the entire lower flat of the building was flooded. "We have a lot of computers here and we had to make sure that nothing was left on the ground," one of the employees said. "This is about one inch of water," he added.
Residents on the Esse-quibo Coast are blaming the Regional Democratic Council (RDC) for being negligent and slothful in dealing with the matter.
Around the Web