The suspect in the murders of a Moblissa mom and her son was arrested yesterday, even as it was revealed that hours before the killings, he had threatened that he would kill her after she reported to police that he had attacked a relative.
The woman, Molly James, 34, was chopped then stabbed to death by her 17-year-old step-brother (not her son as was previously reported by this newspaper) at her Moblissa, Soesdyke-Linden Highway home in the wee hours of Saturday. The teenager also fatally chopped James' son Aaron James, 15, who died awaiting transportation to take him for medical help. The killer then fled.
Yesterday, relatives reported that the suspect was arrested. James' sister Melissa James told Stabroek News that the teen was arrested at the home of their father, Ignatius James, where he had lived. She said the young man lived with her father and his mother some distance away from Molly and her children.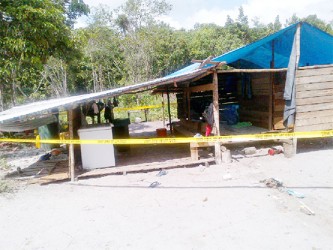 The woman's six surviving children – including a seven-month old baby – are hospitalized in Linden and according to Director of the Child Care & Protec-tion Agency Ann Greene, her officers have launched an investigation with the view to ensuring that the children are placed with the best possible caregiver.
The community remain-ed in shock at the double-murder yesterday. James was warned about a death threat by her step-brother but dismissed it, as according to neighbours, no one believed that the 17-year-old would have made good on his words.
As the mother of seven lay sleeping on a makeshift bed in the camp-like structure that she and seven of her children called home just off the Linden/ Soesdyke Highway at Moblissa, her attacker crept up and stabbed and chopped her to death. Aaron was also fatally wounded and died even as relatives attempted to get help, as, according to one neighbour, he died clutching the branches of a tree as his younger siblings attempted to flag down a vehicle to take him for medical treatment.
Some residents of the small community expressed surprise at the action of the teenager but others said that the young man habitually used illegal drugs and was known to attack persons in the area. Only recently he threatened his mother with a cutlass telling her she was not his mother and he would kill her, relatives said.
James was killed because she dared to report an attack on a relative by the young man. "Even before she come back from the police, he tell one a she lil son dem that he guh kill she but when the boy tell she, she say 'he can't do me nothing'," a neighbour recounted yesterday.
Stabroek News was told that James and her seven children along with some other children she was looking after, were asleep in the camp when the teenager crept up on them. According to accounts, as related to neighbours by the surviving children, the teenager entered the camp and chopped Aaron on both of his legs as he slept next to his mother. Despite his wounds, the boy managed to escape the building. The killer then turned on the sleeping woman and chopped her several times before stabbing her.
As she cried out to her son for assistance, the lad was said to be running to the road way, which is a short distance from their home, but in the process, he fell. The woman managed to flee the home but fell down and died and her assailant then followed her son and as the lad lay on the track, he attacked him again. The 17-year-old then escaped and Aaron called out to his siblings to help him. They managed to take him to the roadway but he died clutching the branch of a tree.
One neighbour told Stabroek News that some of the children ran about half a mile to her home and asked her to call the police after relating the shocking news. However, she said, an older sibling had gone to another home and before she could have called, the police arrived on the scene. "This thing really shocking and if you see how much fine, fine children it had in the camp," the woman said revealing that a woman who lived in a small camp next to Molly's, had left her children with her and went to look for work.
Region One
Molly hailed from a small village in Region One and she lost her mother when she was about ten years old. She was just a teenager when she started a relationship with Phillip Viveiros with whom she has six children.
Yesterday the man's father, Lawrence Viveiros, said he was not sure why Molly and his son separated but they did so about four years ago and the woman remained in the area. He said that his son, who also hails from Region One, works in the interior but he has not heard from him in months and he is not sure where in the interior he works. Lawrence received news of the double murder hours after it happened and yesterday he said he was still trying to come to grips with the incident.
When Stabroek News visited the modest area Molly called home, washed laundry was still hanging on the line but clothes and other articles strewn about the place signalled that she and her son may have put up a struggle that Saturday morning. There was also a decaying piece of meat over the makeshift fireside while an unwashed pot was on a crudely built bench. The home is only covered by a blue tarpaulin and there is no form of security.
All the signs pointed to a mother who lived in abject poverty and was struggling to survive. According to Lawrence, she would sometimes leave the children with her eldest daughter – who is said to be about 16 and who is living elsewhere with her partner – and travel to the interior to work as a cook.
Another of Molly's sisters Merle James described her as a hardworking woman who did all she could to try to maintain her children. She said her sister was forced to leave the father of her children after several years of abuse. "He use to beat she up terrible until she have to leave him…is only the other day dem children move from here (her home) because they was with me," she said.
Merle lives on the East Coast Demerara and got the shocking news following a call from her father.
James Simon, with whom Molly had a relationship and who is the father of her seven-month-old child, said he last saw her on Thursday when he left for work. He was scheduled to return on Saturday. "I come back Saturday and I get the sad news. Molly was a nice woman, she was a good woman," he said with a sad shake of his head. He said they were planning to build a house together and the frame was already up.
"We deh planning to move in the house for the holidays," he said.
Around the Web