At least four men are today nursing mild to no-so-mild injuries after they fell from the third to the second floor of the City Food Court which is currently under construction at the intersection of Camp and Robb streets.
Anthony Fraser, 21; Kevon Goodman, 18, and at least one other man required medical attention following the incident which occurred around 15:00 hrs yesterday, and were taken to a private city hospital for treatment.
Stabroek News understands that Goodman fell from the top floor of the structure, hitting his head several times on the way down.
As a result he sustained injuries to his face and a large swollen area on the right side of his forehead suggested that he took a particular hard hit in that area. He also had several bruises, cuts and scrapes about his body. Fraser too sustained several cuts, bruises and scrapes about his body. He also injured arm in the fall which had to be casted. Both men were sent away after receiving treatment.
Another man, Rhude Boodem, did not require medical attention, and he was able to walk away from the fall with minor injuries.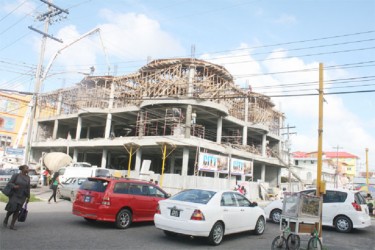 Reports say that the men, a combination of masons, labourers and carpenters were working on the third floor of the structure when the wooden segment they were standing on gave way. When Stabroek News visited the site yesterday most of the workers were tightlipped on the incident and when contact was made with the building's foreman he did not say much more than to confirm that the incident had occurred.
One man though, who also works on the building, agreed to speak and he is of the opinion that the mishap occurred because too much work was taking place in one area simultaneously. He said that at the time of the accident, masons were working on cement which was being poured by a cement truck, while carpenters were working on the wooden elements of the structure.
The activities were being done concurrently, he said, because the "big man" wants to complete construction as quickly as possible.
The weight of the concrete being laid combined with that of the workmen, it is being alleged, proved too much for the wooden fixture they were standing on and so they fell.
An observer lamented the fact many persons working on such projects do so without the use of proper safety gear. He said that "these men were operating from a three-storey building but did not have safety harnesses. What if they had fallen over the side onto the road? What would have happened then?"
Around the Web