The New Thriving Chinese Restaurant will in March 2014 open its new restaurant and hotel at the corner of Camp and Lamaha streets offering a fresh and modern way of hosting events and overseas guests, even though it will retain its business on Main Street.
Public Relations Officer of the New Thriving Chinese Restaurant Feliz Robertson took members of the media on a tour of the new facility on Saturday. She said the owners of the business were unavoidably unavailable.
Robertson could not answer questions as to the size of the investment but said that a ten-year contract was signed between the restaurant owners and the owners of the edifice.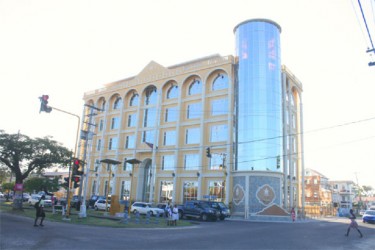 The hotel is to have over 30 rooms and will be located on the second, third and fourth floors of the five-storey building. The restaurant is to be located on the first floor.
Robertson said the only facility to be available for this Christmas season and into early next year is the conference room on the top floor of the building. This, she said, is suitable for the hosting of special events like weddings, Christmas parties, business meetings and other celebrations. For the season, persons who book the conference facilities will only have to pay for the food.
Parking for the restaurant and hotel is facilitated on the Railway Embankment, Robertson said.
Around the Web