Parents of an 11-year-old girl of Bath Settlement, West Coast Berbice who died last week after complaining of abdominal pain are seeking answers as the post-mortem examination failed to determine a cause.
Mahendra Persaud told Stabroek News that his daughter, Varshanie Devi Persaud called Sasha was on a life-support machine in the Intensive Care Unit of the Georgetown Public Hospital (GPH).
He said he was told that parts of her organs were sent to Trinidad for testing and the family was advised not to cremate her remains.
Sasha, who was a dancer was first taken to the Fort Wellington Hospital (FWH) three days before her death and an ultrasound and other tests were ordered.
The girl's mother, Devi took her to the Mahaicony Hospital where the tests, except for one for sickle cell, were done. The results were all negative. They returned to the FWH where the girl was given saline.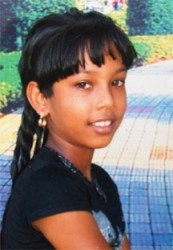 Around 3.15 pm her mother was advised to take her to the New Amsterdam Hospital (NAH) to do the test for sickle cell and they left via public transportation.
All this time, he said, his daughter was still "walking and talking" normally. When she got to the NAH she spoke to doctors at the emergency unit where the blood sample was taken.
Without confirming a diagnosis, the doctors told her mother that they were admitting Sasha for the night. By the following morning, she noticed that the girl's right eye had started to get red.  Persaud said when he went to the hospital he asked the doctors if they had a diagnosis and they responded that they "suspected sickle cell. They keep giving her injections."
Later, as her condition deteriorated, they told him they "suspected something else and they have to move her to Georgetown or it would get serious. By then they had her on a stretcher."
She was taken to the GPH in an ambulance in the company of her mother. At the hospital, she kept crying out for pain and was also having difficulty breathing. Later, she stopped talking and was bleeding through her eyes and nose.
According to Persaud he kept asking doctors about the diagnosis but they told him they were not his daughter's doctor.
Eventually a doctor told him that Sasha "was in a critical condition." He also said that they suspected that her liver and kidneys were infected and that they were conducting more tests.
Persaud said he is confused about what exactly happened to his daughter and lamented that "all she went to the hospital (NAH) for was a test… I want justice. I want to know what exactly happened to my daughter."
Around the Web