Relatives of Sideek Juman of Blankenburg, West Coast Demerara whose body was pulled from a hotel pool one year ago are appealing for justice and bemoan the lack of co-operation from the police.
They are at their wits' end trying to find out what went wrong and have been conducting their own investigations as they said, the "police are doing nothing."
The 20-year-old mechanic had gone to the Double Day Hotel at Tuschen, East Bank Essequibo to hang out with friends (a male and a female) when he met his demise. He was buried the day he would have turned 21.
His mother, Farida is convinced that her son was murdered because marks of violence were visible on his body and his head was swollen.
Apart from that, the next day when the body was found, it was in an upright position and "it looked fresh as though it was not in the water for too long," she said.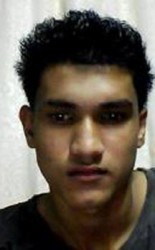 Relatives said they were trying to inspect the marks but were prevented from doing so by the police. But their suspicions were confirmed when they had a closer look while performing the funeral bath.
A post-mortem examination proved that he died from asphyxiation and that "blunt trauma to head" also contributed significantly to his death.
They said too that his personal belongings including his clothing, which he had removed before taking a dip, his BlackBerry cell phone and wallet are still missing.
They are also aware that his cell phone was used on the day his body was discovered as a call was placed to it and someone answered.
According to an aunt, Bibi, they informed the police and had also provided them with information about the suspects but yet no action was taken.
Bibi told this newspaper, "Sideek was like a son to me. He would spend most of his weekends at my home and would go out with us as a family. He was not a bad person and was never involved in fights."
Given the seeming lack of interest by the police at Leonora, they are asking for the investigation to be taken over by police in Georgetown. "If the police were serious about their jobs they would have investigated further," relatives said.
They also learnt that cameras that had been installed at the pool were removed. Juman's friends, the male and female, both in their early 20s, were arrested as was another man, who was said to be the main suspect.
Police had told the family that the investigations have been completed and that the report was sent to the Director of Public Prosecutions (DPP) for advice.
Meanwhile, relatives had told this newspaper that they believed Juman was "lured" to the hotel. He had gone to visit his grandmother at Ruby, EBE, when he received a call to go to there.
Another friend, a taxi driver, related that he left the poolside at 8 pm and had offered to give Juman a "drop home" but he said he was not ready to go and that his two friends would drop him home.
However, after his body was discovered, the two people told investigators that they had left the place before 8 pm. They also gave conflicting reports on their whereabouts.
The male claimed that he had gone to town with a "foreigner [a Spanish man]," while the woman told investigators that she had "spent the night with the same foreigner at the hotel." They both claimed that "the foreigner left the country the next morning."
Relatives went to the hotel and tried to verify the information the female had given but were told by the owner that he does not keep such records.
They also said that the female was "saying to people that she knows the killer".
Other people reportedly have information but it seems as though "they are afraid to come forward because the [main] suspect has good connections," relatives said.
Reports are that Juman had witnessed the main suspect pulling out a gun and shooting a man who was hanging out at the poolside with his girlfriend.
Sources told this newspaper that the man got angry and hit the suspect with a bottle and he retaliated by firing at him.
The matter was subsequently settled between the victim and the suspect. After that incident, the suspect had also claimed that Juman, who was giving out information, was "talking too much."
Around the Web