Argentina has bestowed the Grand Cross of the Order of the General Liberator of San Martin upon Minister of Foreign Affairs Carolyn Rodrigues-Birkett.
According to a press release from Guyana's Ministry of Foreign Affairs, in decorating Rodrigues-Birkett with this high order of the Republic of Argentina, Foreign Affairs Minister Hector Timmerman lauded the consistent friendship Guyana has demonstrated to his government and people.
The decoration was bestowed during an official visit Rodrigues-Birkett paid to Argentina on November 28 and 29. During the visit, the ministers discussed areas of bilateral cooperation within the framework for the Argentine South/South Cooperation Programme. They signed an agreement for the "Free Exercise of Remunerated Activities by Dependent Relatives of Diplomatic, Consular, Administrative and Technical Staff of their Diplomatic Missions, Con-sular Officers and Interna-tional Organisations," the press release said.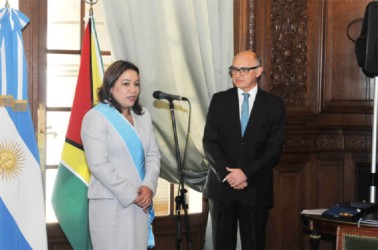 The ministers also exchanged views on the activities of several regional organisations of which Guyana and Argentina are members, including the Union of South American Nations and the Organisation of American States. Rodrigues-Birkett also met with Argentine defence and security ministers and officials from the ministries of health, social development, agriculture, tourism and industry.
The ministers exchanged views on activities both nations had undertaken within the different sectors and discussions focused on potential opportunities for cooperation. The two nations agreed to work towards the early conclusion of a MoU on cooperation in agriculture that would include cattle rearing. Also, a mission from Argentina will visit Guyana some time before year end with a view to exploring cooperation in the tourism sector.
The two countries also identified post graduate training for doctors in specialised areas, Spanish language training and military training at Argentine defence institutions as other areas of cooperation. Collaboration between the two countries has intensified since the re-establishment of an Argentine embassy here two years ago, the ministry said.
Earlier this year,  the Guyana government unequivocally declared its support for Argentina in its claim to the Falkland Islands.
"I wish also to reiterate Guyana's support for the government and people of Argentina to safeguard the sovereignty and territorial integrity to all of Argen-tina, including the Mal-vinas Islands, [Falklands]" said President Donald Ramotar had said at a reception to observe the anniversary of the Argen-tine Revolution, held at the Pegasus Hotel.
It marked a departure from Guyana's previous position on the dispute between Argentina and the United Kingdom over the islands.