Two Memoranda of Understanding for large agricultural projects which were quietly signed by the government with Indian and Chinese companies are raising disquiet as their terms have not been publicized.
Dr Rupert Roopnaraine of APNU yesterday stated that the first knowledge of dealings with the D Y Patil Group and China Paper came to his attention through reporting in the Stabroek News. He said that "with these MoUs we are of the firm belief that they need to be fully ventilated and brought to the National Assembly."
Prior to the reportage in the last Sunday Stabroek and Monday's Stabroek News there had been no information from the government on the details of MoUs clinched with the two companies.
Roopnaraine stated that the government and the Minister of Agriculture, Dr Leslie Ramsammy will have to answer to the dates that these deals were signed and what the specifications were. He told Stabroek News that "this is a matter that is very vexing and I've raised it before when the MoU with Trinidad (for food security) was signed…these things cannot be done in secret."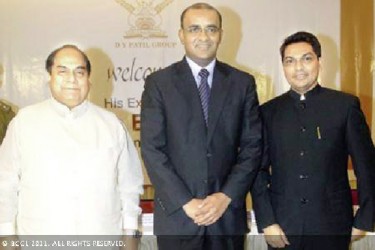 The shadow agriculture minister stated that A Partnership for National Unity will be discussing the lack of transparency at the next shadow cabinet meeting. He said that the way in which the government conducts agreements with foreign investors and other countries needed to be scrutinized and the minister would have to answer "there has to be accountability and  these agreements should be straightforward."
Three days after the Sunday Stabroek published that the D Y Patil Group has advanced beyond a MoU and started cultivating 65, 000 hectares of land in the Canje Basin there has been no official statement from the agriculture ministry. This newspaper has made repeated attempts to contact the ministry as well as the D Y Patil Group in relation to the terms of the MoU but to no avail.
Roopnaraine did also note that the interconnections between the D Y Patil Group's Chairman, Dr Ajeenkya D Y Patil, and former President Bharrat Jagdeo were "very telling of the intricate web of connected interests."
He said that APNU did not have prior knowledge that Jagdeo had received an honorary doctorate in 2011 from the same group as reported in the last Sunday Stabroek nor was he aware when Dr Ajeenkya D Y Patil and Jagdeo both received honorary doctorates from the University of Lancaster. APNU's shadow minister stated that even Dr Ajeenkya D Y Patil's appointment as Guyana's Honorary Consul in Mumbai was not public knowledge.
Director General of the Ministry of Foreign Affairs, Elisabeth Harper was reported in yesterday's Kaieteur News as saying that this announcement was made public, however when Stabroek News contacted the ministry yesterday Harper was not available to give a specific date as to when the announcement was made. She said according to the Kaieteur News report that it was done a long time ago. To date, Stabroek News can find no trace of a press release from the ministry on the appointment.
Wikipedia also lists in Dr Patil's resume that he was an advisor to president Jagdeo. Stabroek News has not been able to confirm this.
Roopnaraine stated that the lack of transparency in MoUs is telling of how the government chooses to conduct business. He said that the while the government was looking to foreign investors, local investors could be faced with a significant imbalance of opportunities. He noted that foreign investors are receiving incentives. The D Y Patil Group was reportedly given approval for timber logging which is much sought after by Indian and Chinese companies. The Group was also given approval for agriculture-related projects which could include dairy processing, rice milling and processing, fisheries and poultry, fruit and vegetables and sugar cane production for ethanol.
The last reference to the D Y Patil Group's MoU from the government came in the form of a release from the Government Information Agency (GINA) on July 20, 2013 about Guyana's potential as an agricultural investment hotspot for Middle East investors.  In the very last paragraph of the news item it was stated that the D Y Patil  group had "signed an MoU with the Government of Guyana for 65,000 hectares of land in Canje Basin to be used for agricultural-related projects, which could include dairy processing; rice milling and processing; fisheries and poultry; fruit and vegetables; and sugar cane production with ethanol and power."
China Paper came to public notice when it advertised in local newspapers for the services of a competent local firm to provide environmental and logistical services for its operations. According to the ad in the last Sunday Stabroek, the company is seeking to develop a project in the agriculture sector in Guyana. The seeking of environmental services would suggest that China Paper has proceeded beyond the MoU.
China Paper, which is state owned under the parent company China Chengtong is into asset management, integrated logistic service, capital goods trade as well as production, development and exploitation concerning forestry, pulp and paper.
According to the company, its "overseas layout" concentrates in South America, Southeast Asia, Russia and other countries and regions. It says that with the support from national policies and auxiliary capital, China Paper strives to own an annual papermaking capacity of over 5 million tons and an annual pulp-making capacity of over 5 million tons and control over 10 million "mu" (Chinese acre land measurements equivalent to 1/6 of an acre) of forest lands both at home and abroad at the end of the period of the 12th Five-Year Plan, with assets, income and profit all going to new levels.
Around the Web