Eight charities have received early Christmas gifts in the total sum of $750,000 thanks to the contributions of the Guyana Bank for Trade and Industry (GBTI).
The selected charities are: the Guyana Red Cross Society, the Salvation Army, the Guyana Society for the Blind, David Rose School for Handicapped Children, Uncle Eddie's Home, the Guyana Relief Council, the Periwinkle Club, and the Dharm Shala – Home for the Poor of All Races.
At the  ceremony yesterday, Sean Noel, Manager of Administration at GBTI, expressed hope that the donations will be used in a meaningful way to help the administration of the charities.
The charities were chosen, he said, based on the recognition of the contributions they have made to Guyana over the years. He further stated that GBTI recognised the struggles that the chosen organisations go through. Noel promised to continue to support the charitable organisations.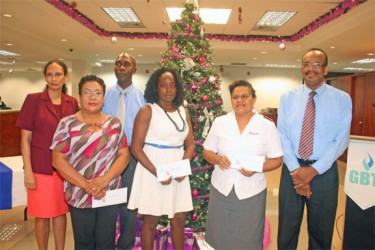 According to Noel, GBTI is also committed to the rehabilitation of the nurses' hostel to ensure suitable living accommodations for any transferred nurses.
Around the Web