The Guyana National Broadcasting Authority (GNBA) will be moving against illegal broadcasters, Chairperson of the GNBA board Bibi Shadick announced on Tuesday, while saying that by the end of the year it was expected that some stations will be shut down, while some would be fined.
Shadick stated that the entity was now in a position to tackle illegal broadcasters by hiring lawyers.
She also identified Retired Major General Norman McLean as heading the Guyana National Broadcasting Authority (GNBA) Monitoring Com-mittee, which has replaced the Advisory Committee on Broadcasting.
She named Dr Paloma Mohamed, head of the Guyana Learning Channel Dr Seeta Shah-Roath and attorneys Fazil Azeez and Sase Gunraj as the other members of the Monitoring Committee.
At a news conference at her office on Tuesday, Shadick said that Dr Shah-Roath would be required to recuse herself if any situations would arise with the Learning Channel but noted that she did not foresee any issues arising.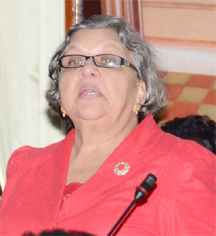 Shadick stated that the committee held its first meeting on Saturday last and was being made to shut down illegal broadcasters.
Although some broadcasters have still to meet the GNBA deadlines to pay the licence fee and submit documentation for full compliance under the Broadcasting Act, Shadick said the GNBA and the board recognised that some current broadcasters would need assistance with understanding the new regulations that need to be followed.
Shadick noted that current broadcasters that were doing so previously without complying with any laws have questioned why they should be subjected to the new rules, such as Tarzie Television of Bartica.
Shadick also stated that the board would have to investigate whether Dr Ranjisinghi 'Bobby' Ramroop's Radio Guyana was utilising its three frequencies to broadcast different content after the issue was raised during a press conference.
She said that HGPTV was granted the use of an additional frequency to broadcast in Georgetown but instead of broadcasting the same content, it was found to be allegedly broadcasting two separate content streams.
Currently licensing fees are set at $2.5 million. Shadick noted that there are still 14 operators that are yet to pay although the deadline has passed: NCN, New Guyana Radio, Jacob Rambarran Broadcasting Systems, WRHM, Star TV, Movie Star Inc, Wirlelss Connections, Pinnacle Communication Radio, Linden Wireless Network, AMG Radio and two cable providers Bartica Communications and Uramco Cables. The licence fees have been challenged by some operators.
There are still a few contentions that Shadick noted needed to be ironed out, including Pinnacle wanting to move its primary broadcasting location after receiving the licence for Essequibo.
She said that if this was the company's intention, it would need to apply for a new licence. Hits and Jams is also reorganising its brand before taking further steps to acquire a television licence.
So far, TVG; GWTV Channel 2; Pinnacle Communications (owned by businessman Alfro Alphonso); MTV Channel 65; Telecor Broadcasting; Little Rock TV; CNS Channel 6; DVT Channel 8; and Blackman and Sons have received television licences. Radio Guyana Inc, Telecor, NTN, Hits and Jams Entertainment and Little Rock received radio licences and Atlantic Cable Network and ENetworks Inc, Ali Broadcasting Corporation, E3 Communications and Infinity Telecommunica-tions rounded out the licensed cable providers.
Around the Web