A Cane Grove man died yesterday morning after being pinned under a tractor after it reportedly slipped from a muddy dam.
Dead is cash crop farmer Tameshwar Sukdeo called Kevin, 24, of Granny Field, Cane Grove, Mahaica.
A friend of Sukdeo's who was with him at the time, said that Tameshwar, who was driving the tractor, encountered mechanical problems which resulted in him losing control of the vehicle.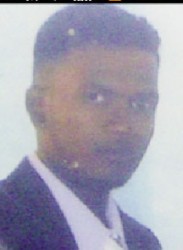 He said that he jumped for safety and encouraged his friend to do the same but after he jumped and fell into the trench, the tractor fell on top of him pinning him down.
He said that by the time Sukdeo was pulled out from under the tractor some thirty minutes later, he was already dead.
Sukdeo's father said that his son who had returned from Trinidad to help out in the farm had left home earlier in the day and that a friend called him and told him about the accident around 0830hrs. The man added that his son had opted to work on the farm rather than work for $30000.
Sukdeo leaves to mourn his parents and one sibling.
Around the Web