Digicel Guyana has unveiled 12 new mobile phones starting at prices as low as $2,900 as part of its 'Brighten Someone's Christmas' promotion, which was launched yesterday at the Digicel store in the City Mall.
The cellphone company has also released its own flagship smartphone, the DL 700. The phone is an upgrade to the DL600, including a larger four inch display, five megapixel camera and a 1.3 Ghz faster dual core processor. Prices on smartphones start at $24,000.
Head of Marketing at Digicel Guyana, Jacqueline James encouraged customers to shop at their local stores to experience the best deals of the season. "We are continuously delivering on our promises to offer value for money and at the same time offering the best smartphones at the lowest prices," she said. "The public is, therefore, urged to visit their nearest Digicel store as soon as possible while stocks last," James stated, while also promising free phone upgrades.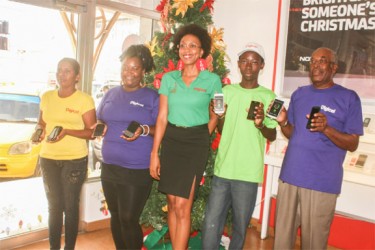 The company has also pledged to visit communities across the country, starting with Baramita and Arakaka during the weekend, spreading the joys of Christmas with the "Christmas Cheers." "Christmas Cheers" is part of the company's way of giving back to the community.
James also urged customers to tune into Digicel Morning Vibes on 100.1fm on the radio every day and listen for in store Christmas deals.
The radio team along with the "Christmas Cheers" team will be hosting a live broadcast under the Stabroek Market clock today and will be offering surprises and treats.
Around the Web