Relatives of Nazo Shaddick, who was killed in a road accident on Thursday on the East Bank Demerara public road, are in shock at the way she met her death, blaming a Guyana Defence Force (GDF) member for the accident.
Shaddick, 80, of Lot 11 Little Diamond Squatting Area, was struck down on the road while on her way to the Masjid in another village.
"That pickup de speeding… it's the only way she coulda de get kill," Shaddick's granddaughter, Fazena Kasim, told Stabroek News.
Loraine Foster, Public Relations Officer of the GDF, has confirmed that it was a GDF vehicle, driven by a soldier, that was involved in the accident.
"She was going to a religious function and she left we home and couple minutes after a girl come and tell us that she get knock down by a pickup," Kasim recalled.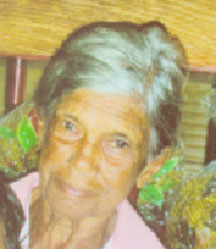 She stated that after the vehicle, DFF 1533, which was headed south along the road, collided with her grandmother, her body was thrown into the air. "All her slippers de in the bush and then them soliders rush her to the hospital but by the time she reach, she was a dead woman," she added.
According to the police, the driver of the vehicle is still in police custody assisting with investigations. Shaddick is survived by her six children and other relatives.
Around the Web