The 66-year-old Sophia woman who was missing since last September was eventually found at the Georgetown Hospital where she had been taken by her sister.
Lucille Ingram of 671 'B' Field, Sophia went missing on the afternoon of September 24 after she was left alone by her sister at the Georgetown Public Hospital.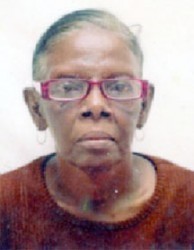 "I carry her at the hospital, left her there in the waiting area in a wheelchair… I buy something and give her to eat and I went home to return. She registered but did not see the doctor," her sister Dorothy Malipen had told Stabroek News.
It turns out that Ingram was registered under her maiden name, Christopher, and was admitted to the facility.
She has now returned to her home and her granddaughter and great grandchild are staying with her.
Around the Web