The alleged killer of Sophia security guard Shanta Devi Chanderpaul continues to evade law enforcement officials.
Chanderpaul, who was stabbed on October 19th, last succumbed on October 29th to injuries from the multiple stab wounds she received allegedly at the hands of her ex partner. An autopsy gave the cause of death as multiple internal injuries due to stab wounds.
The father of her children told Stabroek News yesterday that the alleged killer still roams freely and as recent as last week could be seen walking the streets of `C' Field, Sophia.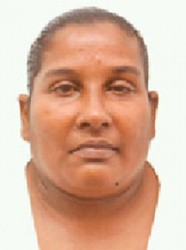 He is calling on police to intensify their search for the man so that his family could return to some level of normalcy and not live in fear. "The police checks his house but it seems he knows when they going so he never there…I want them to get on his case".
The police have not issued a wanted bulletin for the man.
A resident told this publication that the alleged killer would return to his home in the wee hours of the morning but would leave at daylight and could be seen by everyone.
He said that he is scared to call the police again because when he last called he was told by an officer that he could do a citizen's arrest of the man until police arrived and that was a risk he was not prepared to take.