(Trinidad Express) The trial of gynaecologist Dr David Ali, who is charged with grievous sexual assault and rape, is expected to begin on Thursday.
Ali, director of Gulf View Medical Centre, La Romaine, yesterday pleaded not guilty to the offences, which were allegedly committed against a 22-year-old woman on April 8, 2003.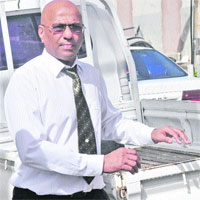 Ali was charged by Inspector Ann-Marie Mc Dowell and placed on $100,000 bail when he first appeared before the court in November 2003.
He was committed to stand trial by Deputy Chief Magistrate Mark Wellington on September 27, 2006.
Wellington made the ruling after hearing from six State witnesses.
Yesterday a jury was empanelled to hear the case.
Justice Mark Mohammed is presiding in the trial in the San Fernando First High Court.
Ali, 60, is being represented by attorneys senior counsel Dana Seetahal and John Heath.
State attorneys Tricia Hudlin-Cooper and Stacy Lalloo-Chung are prosecuting.
The nine-member jury and five alternates were told to return to court on Thursday.
Around the Web