CARACAS (Reuters) – Venezuela's opposition is accusing the government of violating the constitution by proposing to delay cancer-stricken President Hugo Chavez's inauguration due on Thursday amid growing uncertainty over the polarized OPEC nation's political future.
The socialist leader's allies say the January 10 inauguration date laid out in the constitution is just a "formality". They insist Chavez, who has not been heard from for almost a month after complex cancer surgery in Cuba, can take office when his health allows.
His adversaries say that would be running roughshod over the constitution as the former soldier remains in Havana and appears too weak to return to Venezuela after winning re-election in October for a third six-year term.
"If the president of the republic does not take office (on January 10), the country cannot be left in a power vacuum," said Tomas Guanipa of the opposition Justice First party, insisting Congress head Diosdado Cabello should be temporarily sworn in.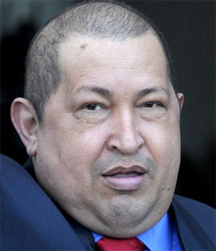 The dispute centres on an article of the constitution that says a president-elect should be sworn in on January 10 but does not say what happens if the inauguration does not take place that date.
A fierce debate over the issue has deflected attention from the president's absence from the political scene and apparent inability to speak in a live broadcast.
The official position is that Chavez is fulfilling his duties as head of state despite a severe respiratory infection that has at times left him struggling to breathe.
The government, which has refused to discuss having Chavez temporarily step aside as he recovers, is providing only terse statements with bare-bones details of his condition.
Television networks have for days aired contrasting interpretations of the constitutional articles in question, with the opinions of constitutional lawyers and ad hoc experts now filling social networks.
A Justice First leader has said the opposition could file complaints against the government with international agencies over the potential violation of constitutional protocol.
A popular political cartoonist depicted what appeared to be a wolf running with a copy of the constitution in its mouth, leaving a trail of pages behind it.
The opposition's Democratic Unity coalition has been holding meetings to hash out a unified stance on the issue.
One Chavez critic who called for a national strike via Twitter to protest the situation was ridiculed by the opposition as an extremist but quickly cited by the government as a sign that Chavez's critics want to destabilize the country.
"There is nothing here that would create a power vacuum and nothing that should give (the opposition) hope that Chavez will leave (office) on January 10," said Cabello, a top Chavez ally and a leader of the ruling Socialist Party, at a press conference.
He called on supporters to hold street rallies in support of Chavez on Thursday but would neither confirm nor deny the president would be in Venezuela by then. He said several Latin American presidents would be present.
An aide to Brazil's president, consulted on the situation in Venezuela, said he thought the process was being carried out according to the constitution.
The last formal update on Chavez's medical condition was on Thursday last.
Opposition leader Henrique Capriles, who lost to Chavez in the October election, said the obsession over Chavez's health had left government frozen and unable to take action.
Around the Web