(Trinidad Express) The Emperor Valley Zoo now has four lions.
Three new lions arrived in the country last Friday morning to join the 18-year-old called "Simba" at the zoo. The three were said to be settling in well.
President of the Zoological Society Gupte Lutchmedial said the three brothers, all two-and-a-half years old, were bred in captivity at a zoo in Texas for the Emperor Valley Zoo.
"They are about the 10th generation bred in captivity, so they are not from the wild, they were ordered from the Abilene Zoo in Texas. They are good bloodline animals. They come from different strains of family so we are sure they are good quality lions."
He said the breed of lions were from Africa but bred in captivity so they may have been central or southern African lions put together.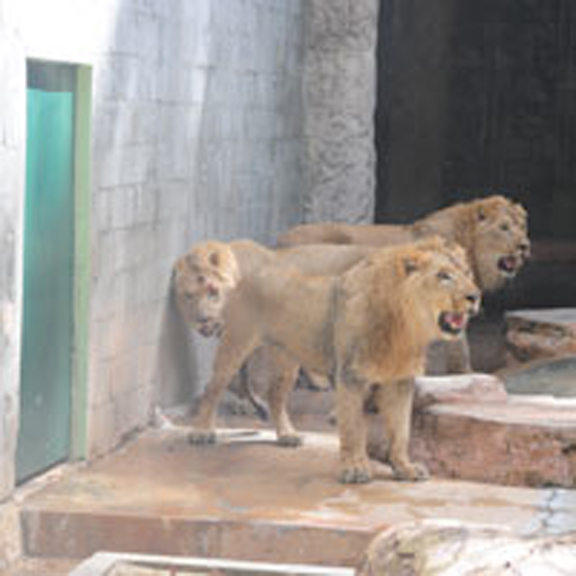 Lutchmedial said he is still tallying the cost to bring in the three lions because he has not yet received the final figure but it may have cost over US$250,000, which was picked up by a member of the Zoological Society.
"They (lions) arrived (Friday) morning at 7.30. They started travelling on Thursday on the ground from Texas to Miami. They had periodical stops every four hours to water them. They left Miami at 3 a.m.
"The trip from the airport to the zoo was the fastest part of the journey and I must say thanks to the Customs and Police which gave us an escort from the airport to the zoo," Lutchmedial said.
He said the animals were being kept in an enclosure until the zoo builds an outdoor area for them.
"We don't have a quarantine in Trinidad for the animals, we use the enclosure. We are hoping that within a year we will have an outdoor savannah effect. These are young animals and they are accustomed to people, they are not wild animals although they are dangerous."
He said they are curious and have been exploring the space and have been trying to communicate with the 18-year-old lion who is the grandson of the first lion the zoo ever had.
Around the Web