(Trinidad Express) A man accused of murdering four people in 2006 walked out of the Hall of Justice, Port of Spain, a free man yesterday afternoon after he was found not guilty of the charges.
Ezra "Dougla" Bhagwandeen was found not guilty by a 12-member jury following only one hour of deliberation.
The matter got started before Justice Prakash Moosai in the First Criminal Court in October of last year with State attorney Joy Balkaran leading evidence for the prosecution.
Bhagwandeen, 27, was charged with murdering Reynold Elie, 53, Gerard Gibson, 52, Christopher Nelson, 48, and Willard Bolivar, 30, on the night of August 18, 2007, at Chin Chin Road, Cunupia.
The State had led evidence that the four were playing dominoes outside a parlour at Kernahan Trace, when two men emerged from some nearby bushes and opened fire on them.
Last November, Balkaran made an application before Moosai that the State's main witness, Johaan Cruickshank Samuel, be deemed a hostile witness after the State failed to elicit the expected responses from him.
On several occasions Balkaran had sought leave to allow Samuel to refresh his memory from the statement he gave to the police as well as his deposition which was recorded in the Chaguanas Magistrates' Court.
Samuel would later testify that police officers added additional information to his witness statement. He also told the court he was forced by the police to give the statement and forced to sign it.
The officers he said, also told him who he should point out in the identification parade.
"Before I walked into the room the officer told me I was pointing out (the man standing at position) number seven," Samuel had said.
Bhagwandeen was represented by attorneys Michelle Solomon-Baksh and Raphael Morgan.
Comments

CARACAS, (Reuters) – Venezuelan authorities yesterday arrested five members of a "terrorist cell" linked to self-proclaimed rogue Venezuelan helicopter pilot Oscar Perez, and killed several other militants during a shootout in a poor area outside Caracas.
BRUSSELS, (Reuters) – European Union officials have proposed removing eight jurisdictions from the blacklist of tax havens the bloc adopted in December, in what critics may see as a blow to its campaign against tax avoidance.
RIO DE JANEIRO (Reuters) – A Brazilian court yesterday ordered the world's largest iron ore miner Vale SA to repair environmental damages its operations caused in land belonging to a community of descendants of escaped slaves in northern Brazil.
(Trinidad Express) Three men were killed in Manzanilla, and Fyzabad and Arima on Saturday night.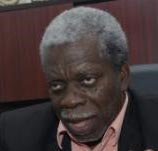 (Jamaica Gleaner) When president of the National Parent-Teacher Association of Jamaica Everton Hannam chose Fly Jamaica Airline to take him to Guyana for his annual end-of-year vacation, he could not guess the ordeal he would face.