(Jamaica Gleaner) Belize Prime Minister Dean Barrow has insisted that his administration did not negotiate with known gang leaders following last week's murder of four people whose bodies were found in an apartment building.
Prime Minister Barrow has also distanced his administration from reports that the gang members were paid BDZ$40,000 (US$20,000) to maintain peace and not retaliate.
Last week, Prime Minister Barrow told reporters that he led a delegation, which included National Security Minister John Saldivar for talks with the leaders of the George Street Gang and that an arrangement had been reached for them to leave the area and not seek to retaliate against people they believe committed the murders.
Comments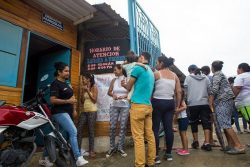 CUCUTA, Colombia  (Thomson Reuters Foundation) – Outside a church in the Colombian border city of Cucuta, Martha Carbajalino flips nervously through a pile of papers in her hands, standing with dozens of other migrant Venezuelan parents hoping to enroll their undocumented children into school.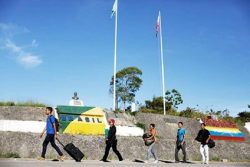 RIO DE JANEIRO,  (Thomson Reuters Foundation) – Brazilian authorities and aid groups are rushing to help tens of thousands of Venezuelan refugees before the start of the rainy season in northern Roraima state this month, even as government leaders clash over a request to close the border.
MANAGUA,  (Reuters) – Protests in Nicaragua over changes to social security have led to the deaths of at least three people, including a police officer, the Red Cross said yesterday, heaping pressure on the leftist government of President Daniel Ortega.
BRASILIA,  (Reuters) – Half of the nations belonging to Unasur, a South American bloc set up a decade ago to counter U.S.