(Trinidad Express) The multi-million dollar Milshirv deal fattened the pockets of two families from the People's National Movement (PNM) Prime Minister Kamla Persad-Bissessar has said.
On Friday, she called on the Integrity Commission to probe the transaction with the same pace it did with respect to allegations made against political leader of the Tobago Organisation of the People (TOP) Ashworth Jack and the construction of his private home in Tobago.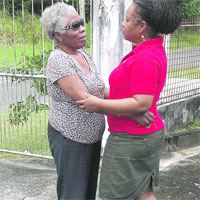 "I make no pronouncement or judgment on the bona fides of this transaction (Milshirv) but will simply call upon the Integrity Commission to clear the air and announce with similar enthusiasm whether it has not yet also commenced an investigation into the complaint we have made against Mr (Orville) London concerning the Milshirv scandal. Whilst the Integrity Commission was quick to announce and comment on the fact that complaints against the TOP were being investigated, the stony silence on this $310 million transaction, leaves a lot to be desired and will give rise to political bias," said Persad-Bissessar.
Speaking at TOP's Freedom Rally at Old Market Square, Scarborough, Tobago on Friday night, Persad-Bissessar claimed not only the Rahael PNM family benefited from the contract but also the PNM's public relations officer (PRO) Denise Tsoi-a-Fatt-Angus, and her family.
Attorney General Anand Ramlogan has filed for judicial review of the Milshirv deal which was accepted by the court earlier this month.
Persad-Bissessar reminded the crowd that the Milshirv land deal involved three parcels of land located at Shirvan road.
The THA, she said, bought the land from Dankett Ltd which is owned by the Rahael family for $12 million in November 2011.
The land was leased to Milshirv Ltd, which is also owned by the Rahael family, which in turn rented it back to the THA, seven days later, on November 21, for $310 million.
"What we did not know then was it is not simply one PNM family from Trinidad alone that profited but rather two PNM families are involved—one from Trinidad and one from in your own backyard right here in Tobago," said Persad-Bissessar.
She said no one asked how Dankett Ltd was able to have such good fortune and good luck to secure a three-acre parcel of land that it somehow knew would meet the needs of the THA.
Persad-Bissessar said Tsoi-a-Fatt-Angus, who is employed at the THA as an adviser to the Secretary of Health, earning $60,000 a month was the owner of one of the three parcels of land.
The other two parcels, said Persad-Bissessar, were owned by her mother, Marjorie Tsoi-a-Fatt and her uncle.
"Dankett Ltd bought all three acres from Denise, her mother and uncle on the same day, September 7, 1999 by virtue of deeds registered as No.18520, No.18521 and No 18523 of 1999," said Persad-Bissessar.
She said it would be interesting to find out how much Dankett Ltd paid for the lands.
Persad-Bissessar said the sale of the land was curious because it was not sold directly to Dankett Ltd but through a company called Aquila Ltd.
Persad-Bissessar added that Dankett Ltd and Aquila Ltd shared a relationship as the registered office address for Aquila Ltd was described in the Deed as #11-16 Victoria Avenue, Port of Spain- the same registered address for Dankett Ltd.
"This Milshirv matter was clearly a PNM family affair. The lands were owned by the PNM's PRO and her family, sold to a company owned by another PNM family," and bought by the THA which then leased and rented it back at the exorbitant price of $310 million.
Tsoi-a-Fatt-Angus said yesterday she planned to take legal action against Persad-Bissessar following statements made by the Prime Minister about her family's alleged involvement in the Milshirv affair.
Commenting on the matter at her Mt Irvine home yesterday, she said her initial reaction, when she heard her name belted out by the Prime Minister at the TOP's political meeting, on Friday evening was: "I felt crushed. I felt sick that as a woman, as Prime Minister, she could make a statement like that."
She said she also felt sorry for her mother, Marjorie, who visited her yesterday offering words of comfort. Tsoi-a-Fatt-Angus said in 1999 the lands at Shirvan were sold to a group of people.
She displayed a copy of the deeds to the lands which included her mother Marjorie Tsoi-a- Fatt, her uncle-in-law Herbert C Phillips and her uncle George Young. Nowhere on the document is her name, Tsoi-a-Fatt said.
"My uncle, uncle-in-law and my mother would have sold that piece of land," she said.
She said legal action will be taken to clear her mother's name as the prime minister misrepresented the facts.
Her mother is the owner of a pharmacy at the NIB Mall, and worked in the public sector for many years.
"I think I am forced to take legal action to clear my name."
Marjorie Tsoi-a-Fatt said with the Prime Minister being an attorney, she expected that Persad-Bissessar would have examined all the information she received at hand, before making such a statement.
Contacted yesterday, former PNM minister and businessman John Rahael said he had no comment to make on the Prime Minister's statement about his family's company.
Around the Web