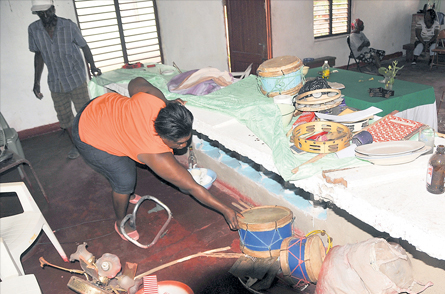 (Jamaica Observer) A clergyman who has been accused of thrashing his St Catherine church is adamant that he is the victim of an evil plot by his former flock who, he believes, have been influenced by the devil to tarnish his name.
"I have done nothing wrong. All I did was to take what was mine," declared Bishop Junior Lawrence, who alleged that since the incident he has received several death threats.
On Sunday, members of Mount Zion of Faith Church in Old Harbour staged a protest, claiming that the bishop damaged sections of the church after they told him that he had to go.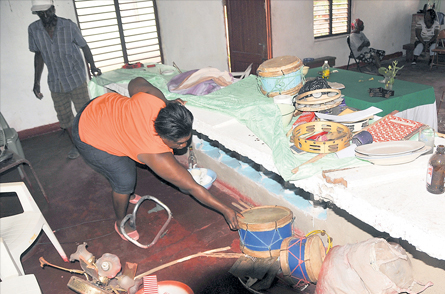 "We told him that we don't want him at our church no more and that was why him come damage our place," said one angry church member.
However, Bishop Lawrence told the Jamaica Observer on Thursday that he removed his "spiritual items" and destroyed several banners he had placed in the church.
"I burnt several of the flags that I placed in the church," said Lawrence, who also admitted that he broke several bottles inside the church.
"I broke several bottles of cream soda that were in the middle of the church," the bishop said, claiming this was a traditional ritual.
Lawrence said he also removed some of the chairs from the church, as it was he who had purchased them from a store in downtown Kingston.
Pointing out that he has been at the church for five years, the 33-year-old bishop said he was moved to tears by the allegations made against him.
He said he felt that the action of the church members was influenced by the devil.
"I believe the devil get involved. I believe the devil take over them, because I know they are sorry," said Lawrence.
His effort to explain his actions, however, has done nothing to calm tempers among the flock.
"We want the bishop to bring back the church items," said one church member on Thursday.
They said they were awaiting instructions from their head bishop, Everald Nelson, to again report the matter to the police.
Bishop Nelson however, told the Observer that as a result of the development he has decided to "sever ties with Bishop Lawrence and remove him from our circle of churches".
"Let God do His job; let him face his own judgement," said Bishop Nelson.
But Bishop Lawrence said he felt what was happening was a sign of the times.
"In the last days, perilous times will come, and the devil will attack the church and try to cause confusion among its members," he said.
Comments

(Jamaica Gleaner) Halt the "ill-conceived" agreement that guarantees Chinese investors US$1 million in the Government Oval project, local construction players are demanding of the Government in an intensification of their lobby against the deal.

CARACAS/BOGOTA, (Reuters) – Relations between Caracas and Washington are at their lowest point ever, Venezuela's President Nicolas Maduro said yesterday in a speech at the presidential palace for international media that was televised to the nation.
RIO DE JANEIRO,  (Reuters) – Brazilian prosecutors yesterday charged Aldemir Bendine, the former chief executive of state-controlled oil firm Petroleo Brasileiro SA, with corruption, alleging he used his position to take bribes from construction firm Odebrecht.

(Trinidad Express) Prime Minister Dr. Keith Rowley admitted yesterday that something went drastically wrong and was crooked in the procurement of the passenger ferry the Ocean Flower 2.
SANTIAGO, (Reuters) – A Chilean court on Monday ruled that a law legalizing abortion in certain cases is constitutional, a win for President Michelle Bachelet's centre-left coalition and for groups that have campaigned for years against the country's strict ban.