(Trinidad Express) A home to call their own.
The father of the country's first sextuplets said yesterday that a house to raise his children was a top priority.
Kieron Cummings, 29, a bank worker and Petra Lee Foon, 28, a teacher, created history on Monday when they became the first parents to six babies in the Caribbean region.
On Monday, a team of doctors performed a Caesarian section on Lee Foon.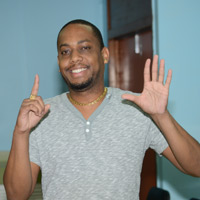 Since then the six premature babies (31 weeks) have been under constant monitoring at the Neonatal Intensive Care Unit.
Lee Foon is in a stable condition.
Cummings, together with his family friend—former government minister Verna St Rose-Greaves—spoke to the media yesterday at the Mt Hope Maternity Hospital where he announced that wedding bells will be ringing as soon as Lee Foon fully recuperates.
When questioned on living arrangements, a soft-spoken Cummings said, "We both live with our parents. I live at Arima and she lives in Chaguanas."
He said about two or three years ago an application was made to the Housing Development Corporation (HDC) for a house.
Asked whether a house was of top priority, Cummings responded, "Certainly, yes."
Cummings said his babies were blessings and he called on citizens to continue praying for them.
"I'd just like to say thanks to all the doctors and medical staff, friends and family, thanks to the nation for all their support and prayers," he said.
"The children are OK, the mom is alright…she is in recovery and everything is alright. I know you all wanted to know who the father is, that's me," he added.
Asked what was his reaction when he was told he was going to be the father of six, he responded, "I was amazed. I nearly fell to the ground though, but it was all good."
He said a few names have come up for the babies but he did not want to share them just yet.
Cummings said all his children will be loved and he was elated to be part of history.
He disclosed that everyone panicked when they were told the surgery had to be done ahead of the March 14 date but the judgment of Dr Bharath Bassaw was trusted.
He recalled that when Lee Foon underwent surgery he and his family were very nervous and anxiously waited outside.
Cummings said he looked forward to the day when he could play sports with his sons, and his daughters could go shopping with their mother.
St Rose-Greaves said the birth of these babies gave the country an opportunity to examine its services.
The parents and their families, she said, were committed to caring for the children but they needed help.
She commended Prime Minister Kamla Persad-Bissessar who has said her Government would lend assistance.
"Ideally parents have responsibility for their children but the final responsibility rests with the State and I think in this situation a lot of assistance will be needed," said St Rose-Greaves.
"We don't know what will happen in terms of long-term health care, whether there will be need for that, a home that can accommodate six children, caregivers and everything else, transport, all the things that children need… you need it six times the amount," she said
The family, she said, will welcome whatever support they can get.
St Rose-Greaves suggested a citizens' account be set up where people could financially contribute to the family if they wanted.
"This is long-term care we are talking about and it's not for begging. I think it's a way we can channel our child care, think about how we treat the nation's children and contribute in ways that can support and help not just the children, (but also) the parents and the nation," she said.
She disclosed that a joiner has already offered to build a chest of drawers for the babies.
St Rose-Greaves said the success of the staff at the hospital at every level was a "wonderful boost" to the health care system.
She said this could be a model that could be held on to so in future there would be continued success, adding that the motivation of the staff was key.
When questioned, St Rose-Greaves disclosed that Lee Foon did seek assistance in getting pregnant.
"I know she was seeking help in terms of her reproductive health care and she became pregnant with six children," she said when asked if Lee Foon took fertility treatment.
The Express understands that Housing Minister Dr Roodal Moonilal had Cummings' housing application before him on his desk yesterday and was looking into the matter.
Comments
CARACAS (Reuters) – Venezuela's opposition-controlled congress yesterday rejected the self-proclaimed lawmaking authority of a new legislative body elected last month at the behest of President Nicolas Maduro, widening the political divide in the crisis-hit country.
APUI, Brazil (Reuters) – The small town of Apui sits at the new frontline of Brazil's fight against advancing deforestation in the Amazon rainforest, where vast forest fires belch jet black smoke visible for miles and loggers denude the jungle.

MEXICO CITY,  (Reuters) – Mexico's foreign minister is in Havana hoping to persuade Cuba, one of Venezuela's top allies, to help resolve the tense political situation in the beleaguered South American nation, according to a senior Mexican official briefed about the trip.
CARACAS, (Reuters) – Venezuela's new legislative superbody yesterday gave itself the power to pass laws, superseding the opposition-led congress and fueling criticism by government adversaries that socialist President Nicolas Maduro is consolidating a dictatorship.

(Trinidad Express) The treatment of persons at the Immigration Detention Centre is heartbreaking and inhumane says Khafra Kambon, chairman of the Emancipation Support Group.