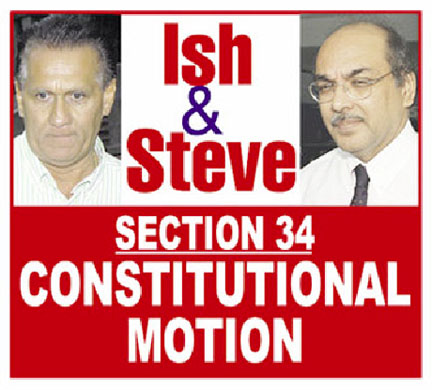 (Trinidad Express) Justice Mira Dean-Armorer yesterday afternoon dismissed all the arguments raised by the Section 34 applicants, which include businessmen Ish Galbaransingh, Steve Ferguson, and Ameer Edoo.
She also refused to grant a stay of the criminal proceedings against the men, telling their lawyers to take their case before the Appeal Court.
Justice Dean-Armorer heard legal arguments over several days in late January and early February from some of England's leading constitutional experts.
The proclamation of Section 34 of the Administra-tion of Justice (Indictable Proceedings) Act 2011, which was plucked out of the Act in the midst of this country's 50th anniversary of independence celebrations last August, caused widespread outrage and condemnation from various sectors of society against the Government.
The original Act was proclaimed by then President George Maxwell Richards on August 31, 2012 and created an avenue for individuals charged with certain criminal offences, including fraud, to apply to a judge of the High Court to have their matters dismissed if they were not concluded within ten years of the charges being laid.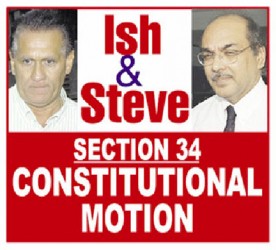 It led to an almost spontaneous protest march in early September, organised by the Joint Trade Union Movement and the Opposition People's National Movement, which saw thousands of people marching through the streets calling for the legislation to be repealed.
In response, Prime Minister Kamla Persad-Bissessar summoned an emergency session of Parliament and the controversial Section 34 of the Act was repealed.
The Prime Minister, after conducting an enquiry, which involved meetings with Chief Justice Ivor Archie and Director of Public Prosecu-tions Roger Gaspard SC, subsequently held former justice minister Herbert Volney, MP for St Joseph, responsible for misleading Cabinet, and revoked his ministerial appointment.
Under Section 81 of the Constitution, President Richards also called on the Prime Minister for information on Section 34. His term of office came to an end on March 18, but there was no word on the outcome of his request.
Some 37 people and companies who had matters which were instituted ten years and older, including businessmen Galbaransingh and Ferguson, complained through a constitutional motion that the passage of the legislation deprived them of an assurance from the State before it was revoked to their detriment.
Galbaransingh and Ferguson are charged with a series of criminal offences arising out of the construction of the Piarco Airport Development Project dating back to 2002.
In the lawsuit, the applicants are seeking an order staying the continuation or further hearing of the criminal proceedings in the matter known as Piarco 2 pending the hearing and determination of the constitutional motion.
They have already been committed to stand trial for another series of criminal proceedings referred to as the Piarco 1 matter, but no indictment has yet been filed in the High Court for those matters.
The Piarco 2 proceedings are still pending before the Port of Spain Magistrates' Court.
Around the Web