(Barbados Nation) PORT OF SPAIN, Trinidad and Tobago:
Jamaican Shanique Myrie has asked the Caribbean Court of Justice (CCJ) to pay her almost Barbadian $1 million (US$500,000) in punitive damages for the treatment she received on her first-ever trip to Barbados three years ago.
Myrie's attorney, Michelle Brown, revealed before the CCJ today that the money should be paid as moral and punitive damages for what her client went through after she arrived at the Grantley Adams International Airport on March 14, 2011.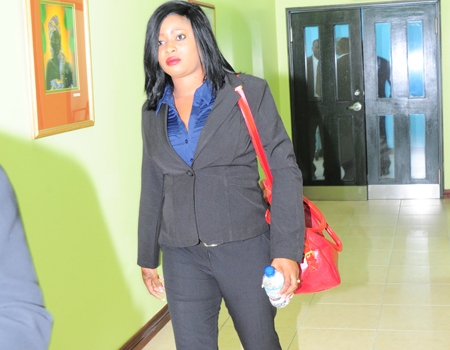 In addition, the lawyers representing the 25-year-old woman want the CCJ to award costs and special damages.
Brown also urged the court to come up with guidelines to prevent a recurrence of what her client alleged she went through, since it could have long-felt repercussions for the acceptance of true freedom of movement by nationals from the various islands of the Caribbean which make up CARICOM.
In making her closing arguments before the CCJ which is hearing Myrie's discrimination case against Barbados, Brown also accused the Government of Barbados of being involved in a huge cover-up after local authorities allegedly trampled on the woman's rights.
Brown has urged the six-judge panel at the CCJ headquarters to completely believe the testimony of Shanique Myrie.
She said Myrie's evidence had remained consistent and accurate throughout the process of the hearing before the CCJ.
The lawyer said although Myrie had admitted to making a mistake in her statement, the remainder of her testimony was consistent.
Myrie claims she was discriminated against because of her nationality when she arrived in Barbados on March 14, 2011.
The 25-year-old also claims she was subjected to a body-cavity search in unsanitary and demeaning conditions before being detained and deported the next day to Jamaica.
Brown has urged the court to find the evidence of Barbadian police officers Everton Gittens and Sirphene Carrington untruthful.
It was Gittens and Carrington who interviewed Myrie in a police office at the Grantley Adams International Airport after she arrived in Bridgetown.
During testimony in Barbados on March 19, Carrington stoutly denied she ever searched Myrie's body in a bathroom at the airport's police facility.
Around the Web