(Trinidad Express) Identical twin sisters, Louise Pierre and Louisa Danzel, celebrated their 100th birthday yesterday in the scenic north coast fishing village of Blanchisseuse.
The twins and their neighbour, Richard Morgan, who will turn 101 on May 25, were honoured by Member of Parliament for Arima, Rodger Samuel, and Minister of State in the Ministry of the People and Social Development and Department of Ageing, Vernella Toppin, in a humble ceremony which was attended by various Ministry officials, friends and family of the centenarians.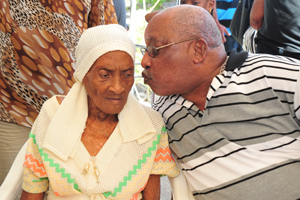 MP Samuel said young people should take pleasure in learning from the elderly among them.
"There is so much to learn from the elderly…they have so much to impart. I want to encourage young people to sit at the feet of our elders and ask them questions. Learn from them because there is an enormity of history that is embedded in them. We cannot afford to allow our nation to be robbed because these people pass away without imparting their knowledge to us. We are living in a time when people are passing away at a tender age, but now we can celebrate and be proud that we have three people who are living long," said Samuel.
Louise Pierre, who has one son, 80-year-old Hercules Pierre, has eight grandchildren and ten great grandchildren.
Although she was visibly tired, she still managed to express how she felt about turning 100.
"I feel very good. I thank God," she said.
There is no electricity in Pierre's home, which she shares with a caretaker, but she won't want it any other way.
She said she could do without radiation and more of the fresh breeze, fish and farine (cassava) she continues to enjoy.
Pierre's sibling, Louisa Danzel, was not part of the festivities hosted by the ministries, but the Express visited her at her home, about two miles away from where her sister lives, where her house is nestled on a hill.
Danzel was surrounded by her children and grandchildren.
The sprightlier twin said while she wanted to be a part of the celebrations she couldn't make it down the hill. She said turning 100 feels good.
"I thank God for making another year. I feel good. I am happy."
She said she spends her time taking walks around her yard, which is surrounded by greenery and many fruit trees.
Like her sister, she enjoys fish and farine.
Richard Morgan, who turns 101 next month, also thanked God for blessing him to see that age.
Around the Web