(Trinidad Express) Nephrologist at West Shore Medical Centre, Dr Emile Mohammed, has predicted that the number of dialysis patients globally will double over the next decade.
Mohammed made the prediction during a cheque presentation made by Pepsi Trinidad, distributors of Ocean Spray, to the John Hayes Memorial Kidney Foundation at Lonsdale Saatchi & Saatchi Advertising Ltd, Herbert Street, St Clair yesterday.
"Around the world there are over a million dialysis patients," Mohammed said.
He estimated that one in four adults in Trinidad and Tobago has some stage of kidney disease. Highlighting a number of risk factors that make us more prone to developing kidney disease, Mohammed stressed that more needs to be done in area of combatting the disease and prevention.
He said, "It does not matter whether you live in a developed country or a developing country; dialysis is under close scrutiny because it has significant socio-economic implications. Unfortunately in Trinidad, we have a very high incidence of end-stage kidney disease. We have unique risk factors such as our 'Trini lifestyle'. And I have to say it is a risk factor. We have culture and religious habits; our obsession with food; particularly the fast food variety and also being a genetically susceptible population. It is well known that people of African descent and Asian descent have higher rates of kidney disease."
According to Mohammed, in Trinidad and Tobago it costs an estimated $150,000 per patient per year. "We have approximately 750 patients on dialysis. It is extremely expensive.
"The number of patients that should be on dialysis in Trinidad is certainly more than double the current number," he said.
He noted while there have been much talk about kidney transplantation, it is best for people with end-stage kidney disease. However it does not address the underlying problems with kidney disease. The answer is prevention, he said.
"Patients who are at risk for chronic kidney disease — need to be screened and monitored. If you are a diabetic or suffer from high blood pressure or have a family history of kidney disease; if you have a systemic disease such as lupus, you need to get your kidney function checked and monitored. It is not difficult. It is just a simple urine test; plus or minus a blood test," Mohammed said.
He noted that the number of cases in Trinidad every year should be a cause for concern and described kidney disease as a condition that is silent but deadly. In early stages, Dr Mohammed said, symptoms can go undetected until much harm is done to the patient.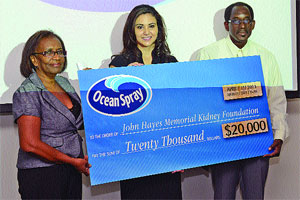 He said, "What is probably not well known about kidney disease is that it is a very strong predictor of cardiovascular disease."
He stressed that more work needs to be done when it comes to preventing this chronic disease.
"We need to improve our infrastructure and develop healthier eating habits and lifestyles and show the importance of physical activity. We need to provide incentives to get people to want to eat healthier, be it price incentives or tax incentives," he said.
Mohammed stressed that screening for this chronic disease is not just the responsibility of the society but individuals too.
Urging the public to be proactive when it comes to their health, Mohammed said, "As individuals we need to know our numbers. If you are diabetic you need to know what your sugars are doing. You need to know your cholesterol, you need to know your blood pressure. Kidney disease is a major challenge in Trinidad and Tobago."
Around the Web