(De Ware Tijd) PARAMARIBO –It seems that Minister Ramon Abrahams of Public Works may have lost his magic when he resigned on Tuesday.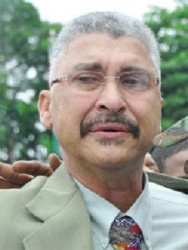 Although he has had some successes, Abraham was a big failure in many other fields and could not live up to the expectations the Bouterse-Ameerali administration had created. Works on the Waterkant, Paramaribo's promenade to which the entire nation is emotionally attached, cannot seem to be completed. The site is so important for tourism, that Abrahams diverted funds intended for the construction of a dike in Commewijne to the project. The uncertainty of the Commewijne project caused a political dispute with District Commissioner Ingrid Karta-Bink and major concerns among Commewijne residents.
The OW Minister has much more to answer for. In the three years at the helm Abrahams could not present a vision on development of the city. He limited himself to repairing roads and placing speed bumps. Traffic safety did not improve and the number of fatal traffic accidents kept rising. The cancelled bridge at Carolina and the plans for the bridge across the Corantijn River were major debacles, which foiled what could have been President Bouterse's most ambitious projects. Abrahams had no clean image too. He was barely in office when he ordered the renovation of his office, awarding the contract to his son-in-law. Pimping his car drew heavy criticism from the opposition. A firm owned by him and his children was allowed to supply OW with ICT products, while his daughter got part of the contract for renovation of the presidential palace.
Around the Web